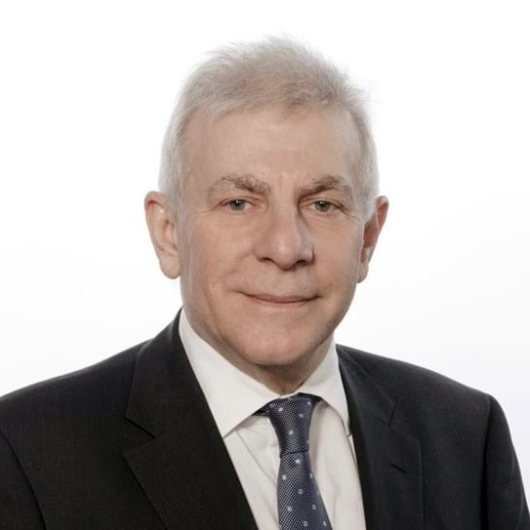 PharmAust (ASX:PAA) is gearing up to begin a pivotal Phase 2 study in Australia with its lead veterinary drug candidate, monepantel, for the treatment of lymphoma in canines, which if successful, could open the door to human use in a much larger market.
"We should have some results of the Phase 2 study in November or December this year and we'll see where we go from there in terms of a human development program," Roger Aston, executive chairman, says in an interview with BioTuesdays.
"If the canine study is successful, I don't foresee any problem enticing a Big Pharma oncology company to license and develop monepantel for human use," he adds. "A number of centers already have expressed an interest in looking at our compound as a treatment for cancer in humans based on the work we've done."
Dr. Aston explains that monepantel is a repurposed drug already approved as an anti-parasitic in sheep by Elanco US Inc. PharmAust has patented monepantel as an anti-cancer drug and has an option agreement with Elanco for veterinary cancer applications.
Elanco (NYSE:ELAN), a leading global animal health company, recently outlined a new strategy to become a major player in the animal oncology space, which Dr. Aston says provides PharmAust with unique advantages moving monepantel forward. For example, PharmAust has reformulated pills with monepantel supplied by Elanco for its upcoming Phase 2 study.
According to Dr. Aston, many chemotherapy agents given to dogs are reformulated versions of the same agents that are given to humans. "The veterinary therapeutic market is dominated by repurposed drugs already approved for use in humans and/or animals."
In addition, he points out that cancer studies in dogs are highly reflective of what a drug will do in humans. The reverse is also generally true. Repurposing of approved drugs potentially offers companies accelerated development and registration timelines.
Six million dogs are diagnosed with cancer in the U.S. each year and one-in-four will die of cancer. However, pets are living longer as owners are willing to pay $2,000-to-$5,000 for certain major treatments, contributing to a pet drug market of more than $10-billion in the U.S. in 2018.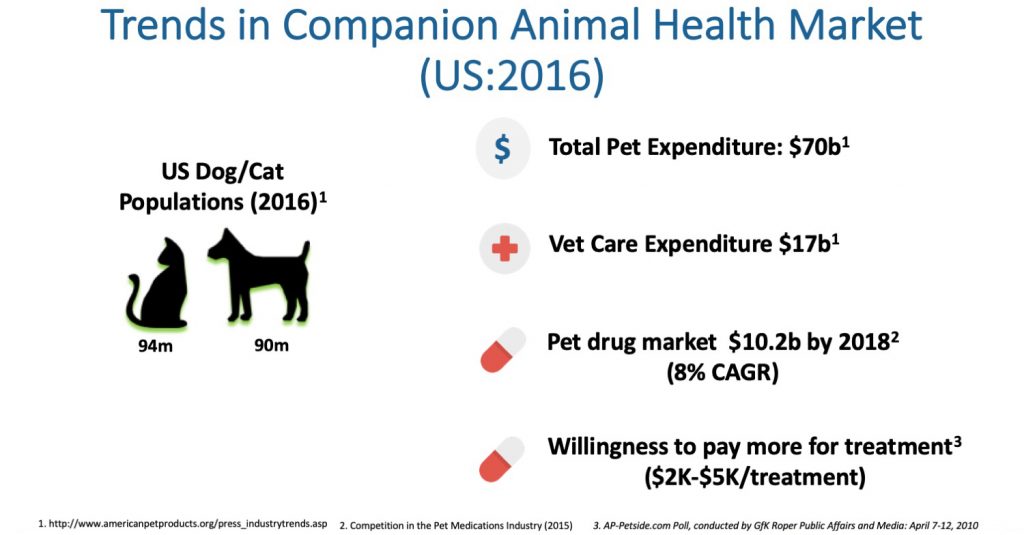 Dr. Aston suggests that the annual U.S. cancer chemotherapy market alone in dogs is valued at $500-million to $600-million, if a safe drug exists with minimal side effects.
"But that figure only covers about 20% of dogs undergoing treatment. We believe our market potential for monepantel is much higher because owners more often than not do not wish to put their pets through a chemotherapy treatment regimen. We are targeting 100% of dogs needing treatment as monepantel has minimal side effects in canines," he adds.
New oncology drugs for dogs represent an unmet need because of the significant side effects associated with chemotherapy. "Monepantel comparatively has little or no side effects," Dr. Aston contends.
In 2017, PharmAust conducted a small pilot study in dogs with lymphoma that showed monepantel was effective at progression free survival (PFS). Of the seven dogs in the study, six showed statistical significance in PFS with an earlier formulation of the drug.
"We believe monepantel's mode of action inhibits the mTOR pathway, which is connected to cell replication and quiescence in certain types of cancer," he suggests.
Dr. Aston says the company performed an extensive reformulation program in 2018 and 2019 to develop a new, high-dose version of monepantel tablets, manufactured under GMP, which resulted in an improved pharmacokinetic profile. The program also improved the taste of monepantel, which was previously unpalatable, suggesting that dosing canines by their owners would be much less challenging.
PharmAust received approval from the NSW Department for Animal Care and Ethics Committee as well as the State of Victoria to begin its Phase 2 study with the newly formulated tablets.
Dr. Aston says the study should begin in August or September after PharmAust receives monepantel tablets from a manufacturer in the U.S. "We've given Elanco an option to license the veterinary oncology application for monepantel and we expect to present Elanco with an interim dossier in November or December."
The 28-day Phase 2 open-label study is expected to first enroll up to 16 dogs. Anti-cancer efficacy is measured by achieving stable disease and PFS or regression of tumors. Preventing metastasis of the cancer also will be monitored. "We can cut the trial short if we see a profound effect and the longer we can suppress the tumor, the more commercial monepantel is," he adds.
"Ultimately, we hope pet owners would put their companion animals on a maintenance treatment of monepantel and avoid the side effects of chemotherapy," Dr. Aston says. "By putting the tumor into stasis, dogs would be able to build immunity to the tumor until their immune system is capable of removing it. The ultimate goal here is to improve quality of life."
• • • • •
To connect with PharmAust, or any of the other companies featured on BioTuesdays, send us an email at editor@biotuesdays.com.