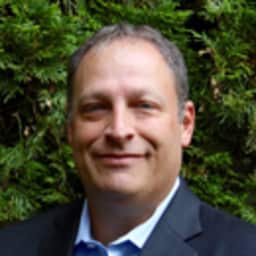 Beyond Air (NASDAQ:XAIR), formerly AIT Therapeutics, is developing a proprietary nitric oxide (NO) generator and delivery system that uses NO generated from ambient air, rather than bulky cylinders, and delivers precise amounts of NO to the lungs for the treatment of respiratory and other diseases.
"Our goal is to eliminate the use of cylinder-based NO systems currently used in hospitals around the world and potentially enter the home market to treat certain respiratory conditions," Steve Lisi, chairman and CEO, says in an interview with BioTuesdays.
Beyond Air hopes to file for premarket approval with the FDA around the end of September 2019 for its cylinder-free NO generator and delivery system, the LungFit, to treat pulmonary hypertension (PH), or a narrowing of the pulmonary arteries in certain ventilated patients.
In January 2019, Beyond Air licensed commercial rights to LungFit PH to Circassia Pharmaceuticals (LSE:CIR) of London, a specialty pharmaceutical company focused on respiratory diseases, for the U.S. and China markets. Circassia plans a U.S. commercial launch in the second quarter of 2020.
Under the accord, Beyond Air is in line to receive $32.55-million in potential milestone payments, and royalties of 15% on net sales up to $100-million and 20% on net sales in excess of $100-million.
Beyond Air retains commercial rights to LungFit PH in Europe and expects to receive CE Mark for its device in the first half of 2020.
Mr. Lisi explains that LungFit PH is a portable system that utilizes electric voltage to produce precise quantities of NO from the nitrogen and oxygen in ambient air. And it uses a disposable filter to remove unwanted NO₂ produced during the chemical process.
"The system will not operate without our filter, thus this is our razor-razor blade business model as each filter has a 12-hour life, so you need two filters each day," he adds.
Inhaled NO is a pulmonary vasodilator, which is approved in the U.S. for use as part of a regimen in the treatment of hypoxic respiratory failure associated with persistent pulmonary hypertension in infants. Outside of the U.S., inhaled NO also is used as part of the treatment of pulmonary hypertension associated with cardiac surgery.
Beyond Air has conducted more than 2,100 treatments with its LungFit platform in more than 85 patients in eight studies at NO concentrations of more than 150 parts per million (ppm), many times in excess of normal treatment level of 20 ppm for pulmonary hypertension in infants. Mr. Lisi says there have been no serious adverse events related to NO therapy.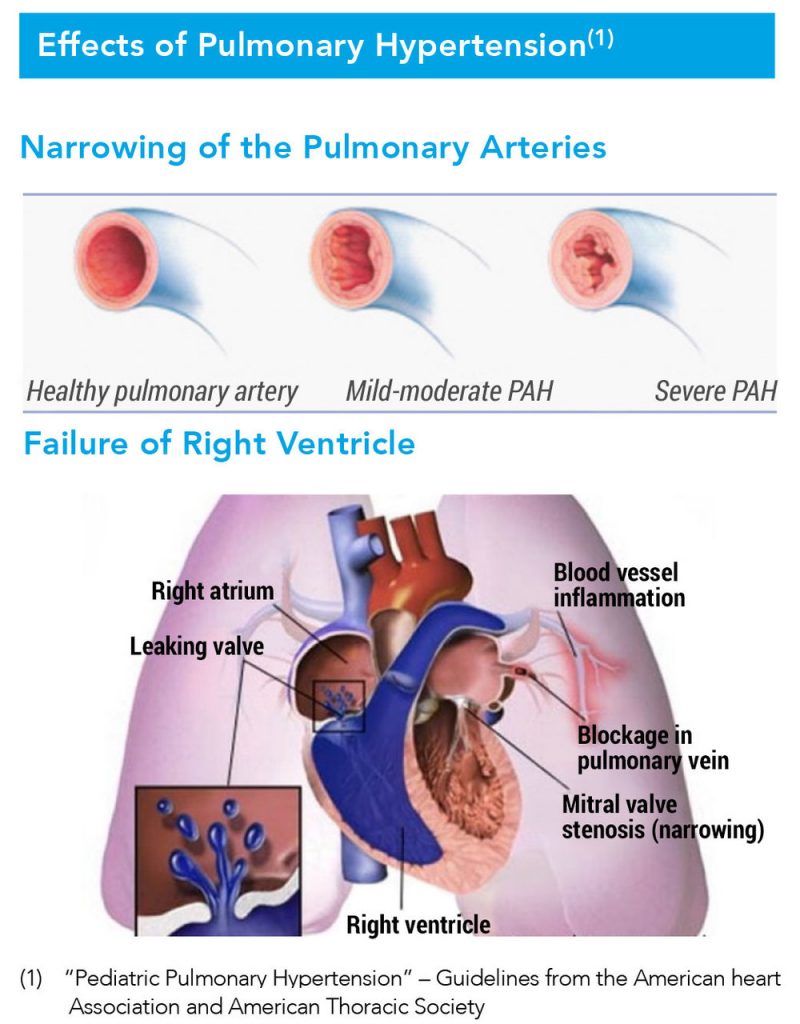 Pulmonary hypertension is a life-threatening condition resulting from increased pulmonary vascular resistance and leading to decreased pulmonary blood flow. Beyond Air estimates the pulmonary hypertension market in U.S. hospitals has a sales potential of more than $300-million a year at peak sales, with the global market exceeding $600-million.
According to Mr. Lisi, inhaled NO causes smooth muscle relaxation, which increases blood flow to the lungs and decreases the workload on the right ventricle.
Currently, hospitals use two, 45-pound NO cylinders on a cart, plus a delivery system, weighing a total of about 175 pounds. "Our commercial generator, with a back-up system included, mounted on a cart would weigh 50 pounds. Plus, our system provides the hospital with the flexibility for use without a cart where the system would weigh just 20 pounds," Mr. Lisi contends.
He suggests that hospitals would have a significant cost and logistics advantage with LungFit PH, avoiding burdensome cylinder inventory and storage requirements.
In addition, NO is supplied by LungFit PH as a hypoxic gas mixture and there are no purging procedures or additional safety measures needed to clear NO₂, a toxic gas, which is removed by the filter in the device.
"From a company standpoint, we don't have any expenses associated with a manufacturing facility and we don't have any logistics expenses delivering NO cylinders," Mr. Lisi adds.
There are some 800 hospitals in the U.S. now using NO cylinders. However, there are more than 1,000 neonatal intensive care units in the U.S., according to the American Academy of Pediatrics and American Hospital Association.
"We expect to expand the current market by providing lower costs and ease of use, compared with cylinder systems," Mr. Lisi contends.
Beyond Air has more than 20 issued patents and more than 10 patents pending across major global markets, which could run through 2037. The company's IP covers its generator; breathing circuit; NO concentration, action in the body and dosing; the NO₂ filter and methods of use.
Beyond Air's second indication is bronchiolitis, or acute lower respiratory infection, in early infancy. The company has completed two pilot studies in Israel with its LungFit BRO device, demonstrating a 24-hour reduction in the length of hospitalization, along with no serious adverse events.
"We treated babies in the pediatric unit, not in the NICU where NO cylinder systems are confined to," Mr. Lisi says. "Discharging babies sooner has its obvious costs benefits for hospitals and insurers."
Bronchiolitis is the most common reason for pediatric hospitalization in the U.S. and a leading cause of global child mortality. There are no drugs approved for bronchiolitis and the standard of care is oxygen and hydration. Beyond Air estimates the global market for bronchiolitis, where there is no competitor in the market, at more than $1.2-billion a year.
Mr. Lisi says the company wants to conduct a pivotal trial in the U.S. with LungFit BRO during the winter of 2020-2021. "Our goal would be to reduce the duration of bronchiolitis symptoms in infants and the length of hospitalization. The longer infants remain in hospital, the greater the risk for both hospital acquired infection and respiratory problems as they age."
Studies have shown that infants with acute bronchiolitis can remain in hospital for three-to-four days.
Mr. Lisi says that eliminating high-pressure cylinders could make NO therapy accessible at home, where patients can self-administer. The LungFit plugs into any standard electrical outlet and requires a Beyond Air filter. After the mask is positioned on the face, patients only needs to press, go, he adds.
Beyond Air's third indication is for severe lung infections, such as nontuberculous mycobacteria (NTM), with an initial target of NTM abscessus (MABSC), the most aggressive and difficult to treat form of NTM. The company plans to seek approval in NTM MAC (mycobacterium avium complex) following MABSC approval or potentially concurrently, pending further developments.
"NTM is an FDA disease of focus with limited [treatment] options. Patients can die within a few years from diagnosis," Mr. Lisi points out.
In an earlier pilot study in Israel, with nine cystic fibrosis patients with refractory MABSC, the company's NO formulation yielded positive safety and clinical results in measuring patients' six-minute walk and FEV1, or the amount of air exhaled in one second.
Beyond Air hopes to begin a 12-week pilot study in the second quarter of 2020, where patients with NTM lung infections, excluding asthma, would self-administer NO therapy with the company's LungFit NTM device at home at concentrations of up to 250 ppm. The company expects to release the study data around the end of 2020.
A pivotal study is slated to begin in the second half of 2021 and finish in the first half of 2023, leading to possible FDA approval and launch in 2024, Mr. Lisi suggests.
"Extensive in vitro data already exist supporting the direct killing effect of NO on MABSC," he says, adding that NO therapy can target other severe, chronic and refractory infections, such as Pseudomonas aeruginosa, the most common pulmonary pathogen in patients with cystic fibrosis.
"Continuous exposure to NO at 200 ppm has been shown to kill 100% of P. aeruginosa bacteria in four-to-five hours."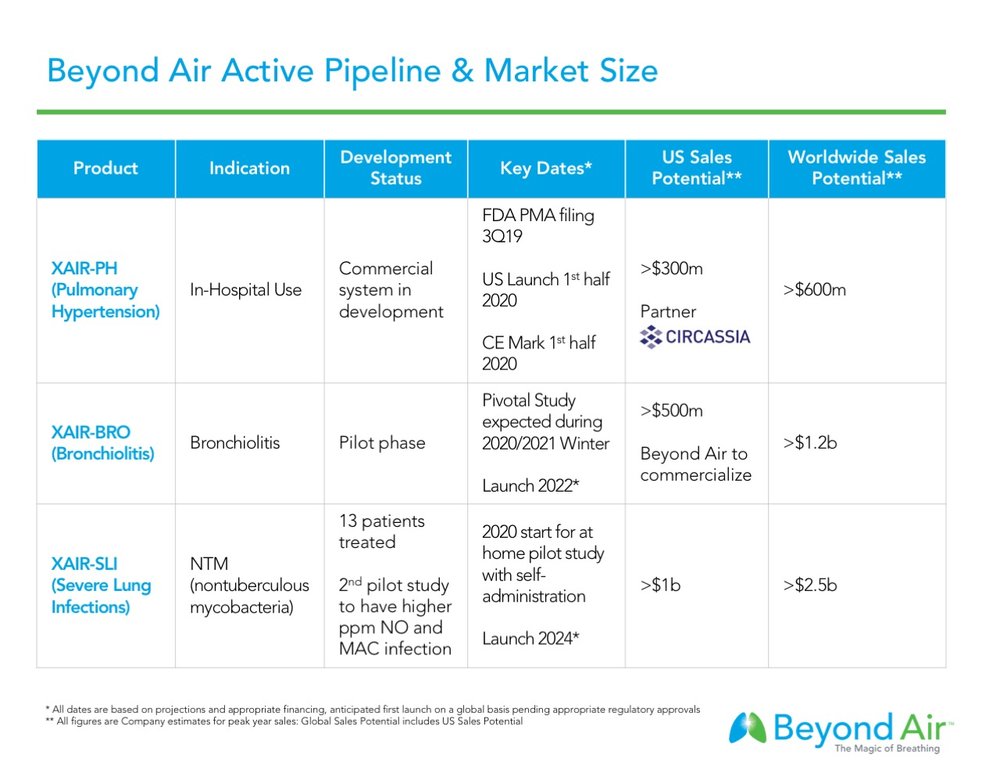 • • • • •
To connect with Beyond Air, or any of the other companies featured on BioTuesdays, send us an email at editor@biotuesdays.com.