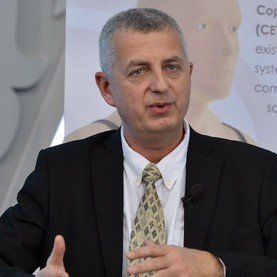 Closely-held Leviticus Cardio of Israel is developing a wireless system capable of providing day-to-day power needs for implanted ventricular assist devices (VADs), eliminating the complications that congestive heart failure (CHF) patients face with existing VADs.
"Our solution uses a unique proprietary technology called, coplanar energy transfer (CET), that has the potential to work with all available commercial VADs," Michael Zilbershlag, co-founder and CEO, says in an interview with BioTuesdays.
"VADs are increasingly in use to support patients with severe heart failure as an alternative for thousands of patients who are candidates for heart transplantation each year," he adds.
CHF is a common disease in the developed world, affecting some 23 million people worldwide. Of the six million people who suffer from CHF in the U.S., 250,000 have severe CHF, which has a low chance of survival and results in a very poor quality of life.
The gold standard treatment for these patients is a heart transplant or treatment with a VAD. According to recent estimates from the National Institutes of Health, 50,000-to-100,000 patients in the U.S. are currently eligible for a VAD implant.
Mechanical pumps now on the market are charged by a driveline power cord that protrudes from a patient's abdomen and is connected to batteries or plugged into an electrical outlet. Patients must always have backup batteries on hand.
"Driveline maintenance is a major quality of life issue for current VAD users," Mr. Zilbershlag says. To prevent infection, patients undergo complex cleaning and dressing procedures to anchor the driveline.
Mr. Zilbershlag explains that Leviticus Cardio's technology uses a receiver inductive coil implanted in the body alongside a VAD, coupled with a battery and an internal controller. "An external coil, which is in a belt surroundings the chest for easy carrying, charges the inner coil electromagnetically," he adds.
In existing technology, to be successful, the transmitter and receiver must be aligned, so the energy is transferred through the small area of skin that separates them. In Leviticus' technology, the transmitting is more robust, and the alignment isn't an issue.
The Leviticus battery lasts for around eight hours, after which the user needs to wear a vest for charging. A wrist monitor is used to keep track of the VAD, coupled with an internal vibration alarm that is triggered by a major hazard such as low battery power.
The technology also includes a wire-based backup charging system that uses an internal power cable connected to the VAD. The cable passes under the neck skin and provides a skull-mounted "socket" behind the ear, Mr. Zilbershlag says, adding that the backup wire system will become a barrier for competition.
System Components
"Our wireless technology would allow patients to walk around without any physical impediments for up to eight hours a day, which represents a major leap in the quality of life for these severely ill patients," he adds. "Our CET system also is an economically superior choice to external driveline systems, whose annual maintenance costs approach $20,000 per patient-year."
The company has 10 approved and four pending U.S. patents, covering wireless energy transfer into the human body and its related VAD implementations.
There are an estimated 1.1 million people in the U.S. hospitalized annually with CHF, with hospitalizations growing 50% every five years, according to the American Heart Association. The available VAD market is some $14-billion a year.
In February, Leviticus announced the first successful human implant on a compassionate basis of a fully implanted Jarvik Heart VAD with its CET powering system at the National Research Center for Cardiac Surgery in Astana, Kazakhstan. The procedure was published in the peer-reviewed Journal of Heart and Lung Transplantation.
Mr. Zilbershlag says Leviticus plans to conduct an initial clinical trial with approximately 10 patients with the Jarvik pump before the end of 2019 and then seek an investigational device exemption (IDE) from the FDA. It plans to apply to the FDA to conduct an IDE study in the U.S. to collect data on the technology's safety and efficacy in the second half of 2020.
"In parallel, we will start development to incorporate our CET technology with any fully implanted VAD product," Mr. Zilbershlag says, adding that the company plans to begin clinical studies with this second VAD at the start of 2022.
"Our goal is to show that patients can expect an improved quality of life with Leviticus' fully implanted VAD because they will be free from external equipment for many hours a day," he contends.
• • • • •
To connect with Leviticus Cardio, or any of the other companies featured on BioTuesdays, send us an email at editor@biotuesdays.com.