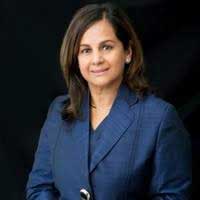 As founder and CEO of closely-held Pulse Infoframe, a leading cloud-based healthcare data insights company, Dr. Femida Gwadry-Sridhar's resume boasts a deep background as a pharmacist, epidemiologist and methodologist with over 25 years of experience in clinical trials, disease registries, knowledge translation, health analytics and clinical disease outcomes. She founded the first knowledge translation health informatics lab in North America in 2006, creating a global, collaborative ecosystem for interdisciplinary research. In 2008, she funded a team to develop a physical and virtual platform to support multidisciplinary research, which led to the creation of Pulse Infoframe in 2011. Her brainchild, the healthie platform, has evolved to enable the integration of clinical, imaging and histopathology data as well as patient reported outcomes and natural histories. In this interview with BioTuesdays, Dr. Gwadry-Sridhar discusses the importance of collaborative data sharing to optimize discovery and improve patient outcomes and advance care.
What was the problem you attempted to solve?
When I was involved in conducting clinical trials, I found that data from physicians, researchers and clinicians was in silos, which made it difficult to find patients to enroll in clinical trials because I couldn't access all of their data in order to determine whether they were eligible for the study.
How did you approach solving that problem?
We decided to build a platform technology, which we named, healthie, which leverages the commonality across different diseases. Healthie stands for health informatics experience. Today, our focus is on different cancers and rare diseases. Even though each cancer has its own unique elements, the reality is that there is a lot of commonality in cancer and we collect data elements that are common across different cancers. More recently, we have collaborated with international funding agencies advancing the requirements for rare disease registries. Collecting relevant and actionable data for a rare disease is particularly important because there are so few people around the world to provide data for research and improvements in healthcare treatment. Because Pulse has invested in addressing relevant questions about data sharing, governance, ontologies and patient reported outcomes, we are able to provide platform users with high quality, real world evidence.
How do you collect data?
Our intuitive data entry and integration tools collect patient demographic, lifestyle, clinical, genomic, common registry elements, and data across multiple diseases. Our inclusive registries enable actionable insights into patient outcomes, research, value-based pricing, new therapies, and evidence-based protocols. In essence, we have created a data ecosystem focused around specific diseases and disease types.
What happens with the data you collect?
The platform connects specialists from around the world in self-configuring networks. This connection enables research through applications and processes, providing clinicians and researchers with patient records and real-time analytics. The platform is designed as a unified, multi-tenant system for easy, secure, cost-effective, multi-site collaboration across health systems and specialist communities globally. And we manage security in accordance with HIPAA and GDPR privacy and security standards. To gain insights at a glance, healthie displays data in real-time charts and graphs. It also provides data that allows users to harness the power of the information for more relevant and accurate decisions.
How would you summarize your vision?
We believe that medical advances are made when patients, researchers, clinicians, and pharmaceutical and biotechnology companies collaborate and share data across boundaries. We view all of these groups as our stakeholders. Through this data sharing, the use of the platform can increase the speed of clinical trial recruitment, find new treatment regimens and cures in cancer and rare diseases, and establish real-world evidence by supporting patients and patient-advocacy groups.
How does Pulse Infoframe differentiate itself from competitors?
Firstly, we have expertise not only from a technology perspective but we also understand the diseases we focus on. We have deep clinical expertise, employ data scientists and understand how data can help our stakeholders do a better job. Plus, we work globally. Secondly, we work with our stakeholders strategically to figure out the best approach to utilize our technology. And finally, we've future-proofed the technology and made it more efficient. As a result, drug developers don't have to buy different software technologies to run different diseases; they're all available on our healthie platform.
Can you discuss your business model?
We operate on software-as-a-service model. Our clients are able to request subscription reports and finally, the registries are used to conduct epidemiological research as well as prospective real-world research.
What's the size of your addressable market?
A conservative estimate puts the market at $2.5-billion. As a software-as-a-service model, more than half of our revenue recurs annually.
Can you sum up your value proposition?
As we move into an era of precision medicine, it becomes more important to uncover and understand the commonality between different diseases. New drugs are now looking at multiple genetic mutations and because they are so specific and targeted, not only at a gene-level, but at a metabolic pathway level, we try to make sure that we're collecting the correct data to determine which patients will benefit the most from a given treatment. This approach also could reduce the cost of drugs over time by focusing their use for conditions where there is higher certainty that there will be a therapeutic effect. And by collecting healthcare data in a single place, the data can also be used to help the drug development process, patients and patient advocacy groups.
• • • • •
To connect with Pulse Infoframe, or any of the other companies featured on BioTuesdays, send us an email at editor@biotuesdays.com.