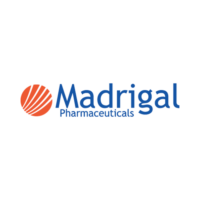 Roth Capital Partners launched coverage of Madrigal Pharmaceuticals (NASDAQ:MDGL) with a "buy" rating and a 12-month price target of $62. The stock closed at $47.52 on Oct. 18.
"Our rating on Madrigal shares is based on our confidence in the clinical success and profitability of the company's lead compound, MGL-3196, for the treatment of fatty liver disease (non-alcoholic hepatosteatosis, NASH) and lipid disorders," writes analyst Yasmeen Rahimi.
She said MGL-3196's mechanism of action targets the underlying cause of NASH, adding that NASH is characterized by the build-up of fat followed by scarring (fibrosis) and inflammation of the liver.
"With that mind, we point out that MDL-3196's mode of action is to burn fat in the liver. In our view, a mechanism that melts fat (like MGL-3196) is far more logically sound than any other drugs in development," she added.
Madrigal expects to report interim results from Phase 2 study in NASH in December.