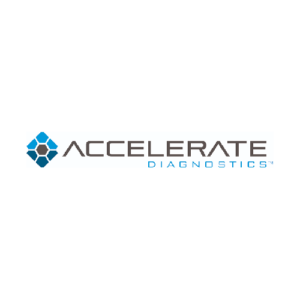 William Blair has launched coverage of Accelerate Diagnostics (NASDAQ:AXDX) with an "outperform" rating and an "aggressive growth" company profile. The stock closed at $19.97 on Thursday.
Analyst Brian Weinstein writes that the company is moving towards launch of a revolutionary, fully automated system and initial assay capable of performing identification and antibiotic susceptibility testing of bacterial and fungal infections.
If successful, he said the company's ingenious approach could shave hours, and potentially days, off the time to precisely identify an infection and recommend the right drug and dose to quell it.
"Feedback from our lab contacts has been nearly unanimous and essentially boils down to this: 'if it works, it is a game-changer'," he said.
Mr. Weinstein said the market for using the first-generation instrument in the targeted applications is over 14 million potential tests worldwide per year, and the first product on this system, used on suspected septic patients following a positive blood culture, is a four million test annual opportunity, or $720-million at assumed pricing.
While system sales will drive revenue during the early launch period, he said that over time, Accelerate's revenue should reflect a more typical diagnostics razor/razorblade mix.
"Eventually, we believe Accelerate will be able to generate gross margin of about 70% and operating margin that should exceed 20%." He predicts the company would become profitable in late 2018 or early 2019 as revenue expands rapidly towards his 2019 target of $183.5-million.