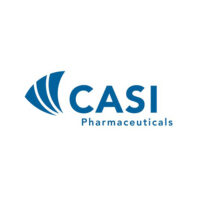 H.C. Wainwright analyst Swayampakula Ramakanth has assumed coverage of CASI Pharmaceuticals (NASDAQ:CASI) with a "buy" rating and $3 price target. The stock closed at $1.21 on Wednesday.
CASI is a clinical-stage company focused on developing and commercializing oncology products.
Mr. Ramakanth writes that that CASI is an attractive investment because its strategy is to bring novel therapeutics to the two largest oncology markets: the U.S. and China; its the lead pipeline product, ENMD-2076, is a first-in-class treatment for several niche and difficult-to-treat indications, potentially affording it a fast track to market; and it intends to license approved or late-stage assets to grow its commercial portfolio, lowering the associated clinical and regulatory risks.
CASI is exploring ENMD-2076 in four orphan indications: fibrolamellar carcinoma (FLC), triple-negative breast cancer, soft-tissue sarcoma, and ovarian clear cell carcinoma.
FLC is a very rare form of liver cancer, which could result in a quick regulatory approval, Mr. Ramakanth said. Due to a small patient population of about 300 cases a year in the U.S. and the lack of any approved therapies, "we believe that relatively small studies of less than 100 patients for a pivotal study may be sufficient to support market approval," he added.
CASI initiated a Phase 2 study in FLC in the third quarter this year. Mr. Ramakanth expects patient recruitment to be brisk due to the availability of an international patient registry.