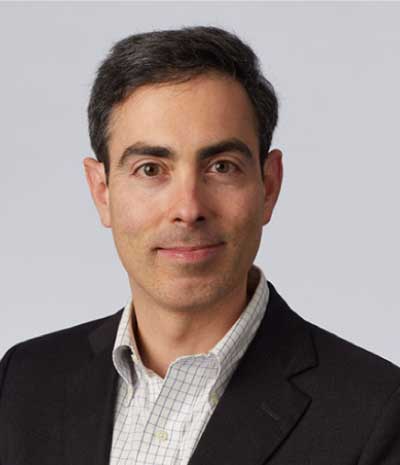 Immuneering (NASDAQ:IMRX) is integrating translational medicine with bioinformatics to discover and develop novel product candidates for a broad population of cancer patients with RAS mutations, an approach the company calls "universal-RAS."
When RAS genes are mutated, cells grow uncontrollably and evade death signals. RAS mutations also make cells resistant to most available cancer therapies.
"We are taking a different approach to traditional drug discovery and development in oncology where historically only small populations of patients achieve complete responses while most others do not," Ben Zeskind, Ph.D., co-founder and CEO of Immuneering, says in an interview with BioTuesdays.
"We started the company with the goal of understanding how those terrific responses were coming about, and then finding ways to make similar or improved responses happen in broader patient populations," he adds.
"This requires counterintuitive insights deeply rooted in data," he adds. "If drugmakers keep doing the same intuitive thing, they will keep getting the same results. The conventional wisdom in targeted oncology is that you should chronically inhibit pathways, shutting them down 24/7. This approach can harm healthy cells and lead to resistance."
In contrast, Dr. Zeskind says the company's deep cyclic inhibition approach is designed to rapidly cycle pathways on and off, with the goal of sparing healthy cells and potentially limiting adaptive resistance.
Immuneering currently has two programs in its wholly-owned product portfolio that are differentiated by features that include indication and half-life: lead candidate IMM-1-104 is in a Phase 1/2a clinical trial and IMM-6-415 is in IND-enabling studies. Multiple additional programs are in the discovery phase.
Dr. Zeskind explains that both IMM-1-104 and IMM-6-415 are based on the company's differentiated approach of deep cyclic inhibition.
Deep cyclic inhibition refers to a proprietary and novel mechanism through which Immuneering's therapies are designed to deprive cancer cells of the sustained signaling they need to rapidly grow and divide, while still providing the moderate or intermittent signaling that healthy cells need. The goal is to selectively impact cancer cells to a greater extent than healthy cells, regardless of the specific RAS mutation driving the tumor.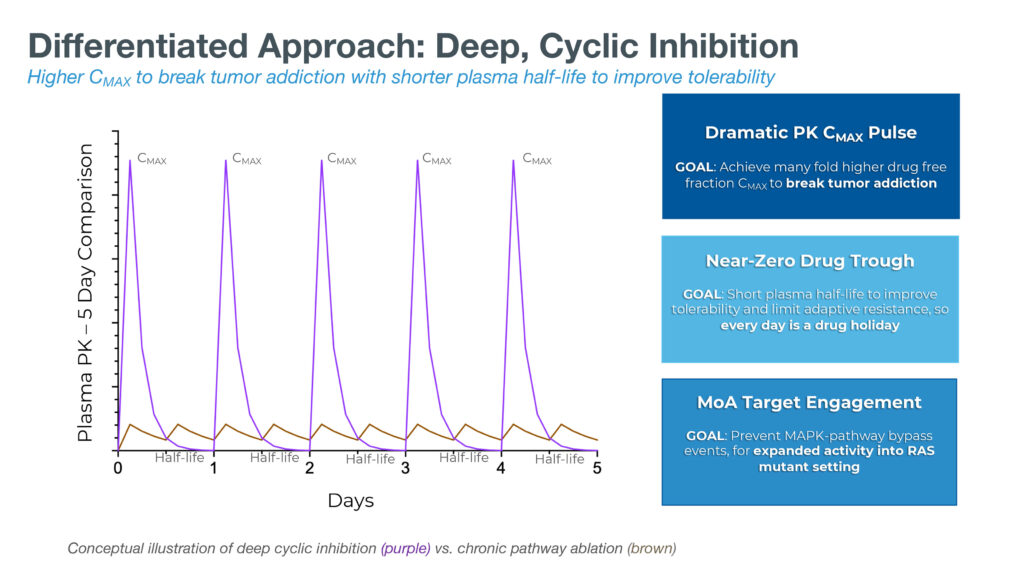 RAS is a family of genes that make proteins involved in cell signaling pathways, such as the MAPK pathway, that control cell growth and cell death. Mutated forms of the RAS gene are found in some types of cancer where they cause cancer cells to grow and metastasize.
For example, activating mutations of RAS (or RAF) genes in the MAPK pathway are observed in approximately 30% of all cancer patients, and inappropriate or abnormal activation of this pathway is observed in up to 50% of all tumors and represents one of the most highly used signaling pathways in oncology.
Deep cyclic inhibition is designed to hit tumors hard with high peak drug exposures, helping to break addiction to the underlying MAPK pathway that causes many types of cancer, and then swiftly reduce the drug exposure to nearly zero in less than 24 hours.
As a result, the deep cyclic inhibition approach aims to provide patients with what might be considered a daily "drug holiday," Dr. Zeskind suggests. This is a counterintuitive approach compared with traditional treatments that are designed to sustain target engagement 24/7 to inhibit the MAPK pathway.
Dr. Zeskind recalls that during the first 10 years after the company was founded in 2008, Immuneering used bioinformatics to understand the mechanism of action of other companies' drugs and why some drugs worked better in some patients than others. Over time the company created a bioinformatics platform to find counterintuitive insights for drug development, which ultimately led to the deep cyclic inhibition approach.
About five years ago, Brett Hall, Ph.D., joined Immuneering as CSO, bringing decades of expertise in translational science and humanized 3D tumor growth assays. "We then started developing our own pipeline of wholly owned programs, and over time applied our translational and informatics expertise to identify genetic profiles that were more sensitive to our drugs in the 3D tumor growth assays, and used bioinformatics to project that on to patient populations," Dr. Zeskind adds.
These humanized 3D tumor growth assays, plus preclinical study results, enable Immuneering to model the potential activity of deep cyclic inhibition and identify target populations for treating different cancers. The tumor models especially are essential to determine which types of cancer patients may be most addicted to the MAPK pathway and thus most responsive to the deep cyclic inhibition mechanism of action.
Dr. Zeskind says lead drug candidate IMM-1-104 has demonstrated universal-RAS potential and robust preclinical activity, including strong tumor growth inhibition in preclinical models of pancreatic cancer, non-small cell lung cancer, colorectal cancer and melanoma.
"The hypothesis for IMM-1-104 is from a proprietary model that identified a counterintuitive and novel deep cyclic inhibition approach. With IMM-1-104, we are pioneering the mechanism of deep cyclic inhibition, which challenges the prevailing view that MAPK pathway inhibition must be sustained to be effective," he adds.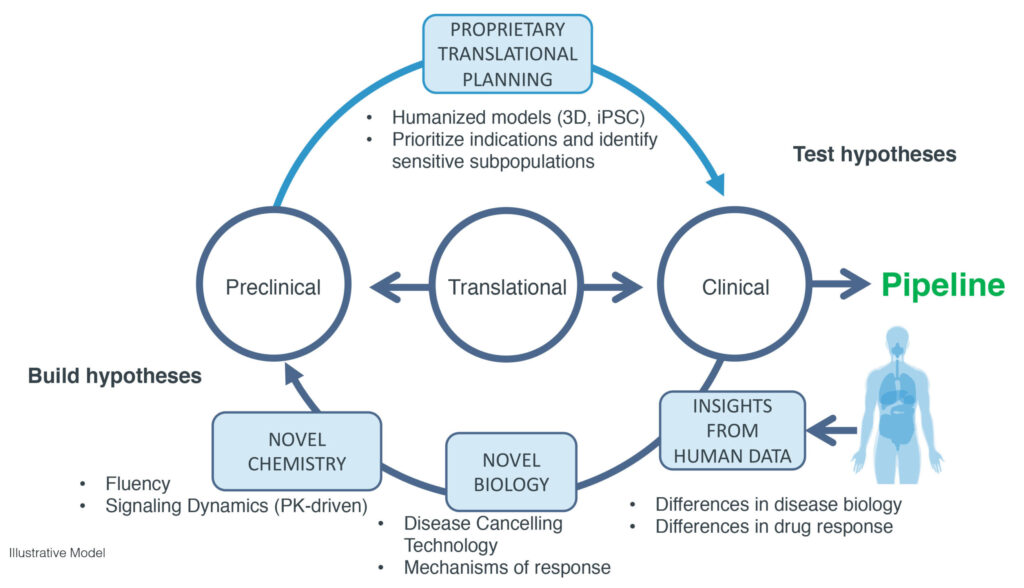 IMM-1-104 is advancing in a Phase 1/2a open-label study designed to evaluate its safety, tolerability, pharmacokinetics (PKs) and preliminary efficacy in patients with advanced RAS mutant solid tumors.
The Phase 1 portion of the study, which is being conducted at five clinical sites in the United States, is evaluating IMM-1-104 in a design that includes a dose escalation phase and dose evaluation phase to establish an optimized recommended Phase 2 dose candidate.
Following selection of the recommended Phase 2 dose, the company expects to conduct a Phase 2a dose expansion phase to assess the safety and efficacy of IMM-1-104 in RAS mutated pancreatic, melanoma, lung and colorectal cancers.
At the American Association for Cancer Research annual meeting in April 2023, Immuneering presented positive initial PK, pharmacodynamic and safety data of IMM-1-104 from the Phase 1a dose escalation portion of the trial.
IMM-1-104 achieved significant levels of the plasma concentration of therapy, demonstrated a half-life of approximately two hours, as predicted, and was well tolerated with no dose limiting toxicities.
The Phase 1b dose expansion portion of the trial is underway to evaluate two cohorts of approximately 12 patients each receiving an oral once-daily dose of IMM-1-104 (240 mg or 320 mg). The company expects to announce a recommended Phase 2 dose and additional safety data in early 2024.
Dr. Zeskind explains that Immuneering's second product in clinical development, IMM-6-415, is designed to target RAS and RAF mutant tumors through deep cyclic inhibition of the MAPK pathway, with an exceptionally short half-life that creates an accelerated cadence relative to the once-daily dosing of IMM-1-104.
"Both IMM-1-104 and IMM-6-415 seek to deprive malignant cells of the continuous signaling they need to proliferate, while providing healthy cells with a cadenced, normalizing level of signaling designed to improve tolerability," he adds.
IMM-6-415, which is advancing in IND-enabling studies, is in development as a monotherapy or a combination therapy for MAPK-driven tumors, administered in an oral twice-daily dose. The company expects to submit an IND filing for IMM-6-415 in the fourth quarter of 2023.
Immuneering's two products are expected to have patent protection beyond 2040, excluding future adjustments. At March 31, 2023, the company had $91.5- million of cash, which together with a subsequent financing announced in April 2023, supports a cash runway projected to extend into 2025, Dr. Zeskind says.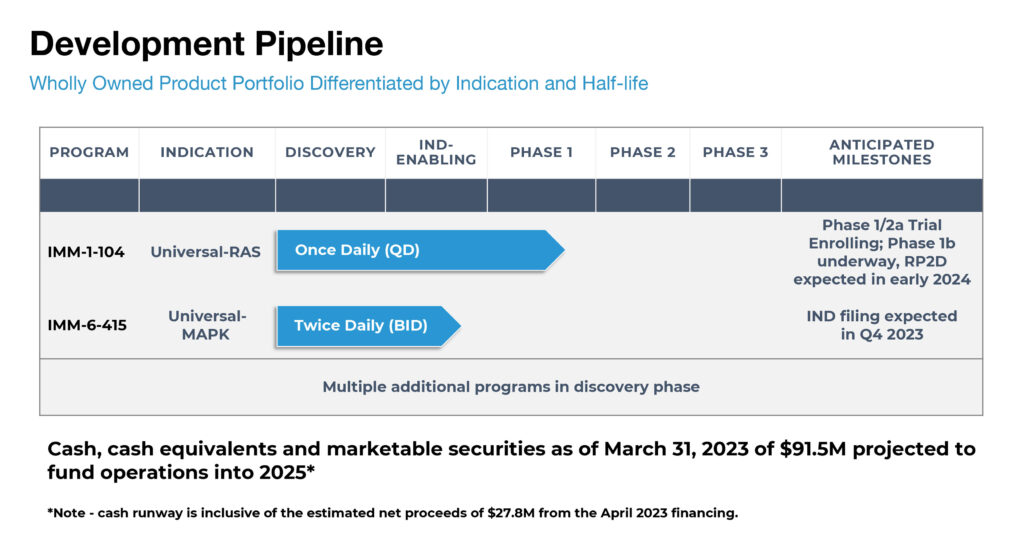 • • • • •
To connect with Immuneering or any of the other companies featured on BioTuesdays, send us an email at [email protected].