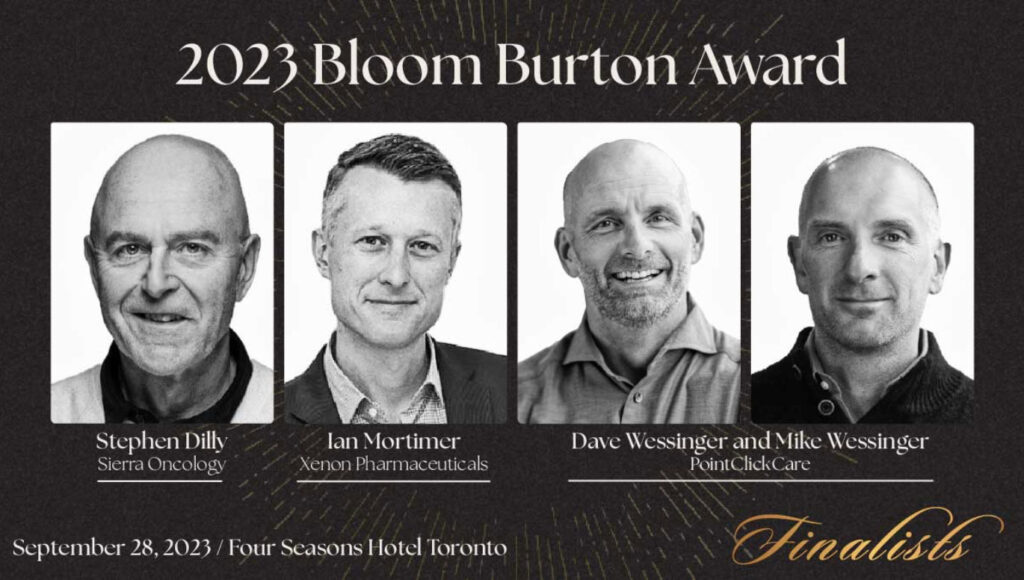 The finalists for the 2023 Bloom Burton Award are:
Bestowed annually, the Bloom Burton Award honors an individual who made the greatest contribution to Canada's innovative healthcare industry in the previous year. The winner will be announced on Sept. 28, 2023.

Brian Bloom, chairman and CEO of Bloom Burton, said Stephen Dilly is being recognized for his leadership at Sierra Oncology. The company's successful salvage of momelotinib and its steady push towards commercialization attracted a $1.9-billion (U.S.) acquisition by GlaxoSmithKline.

At Xenon Pharmaceuticals, Ian Mortimer leads one of the most exciting and well-capitalized biotechnology companies in Canada, with a strong neurology pipeline and a promising lead candidate entering Phase 3 clinical trials, Mr. Bloom said.
Dave and Mike Wessinger are meeting the need of the senior care market head on as a leading cloud-based, health record platform connecting patients, healthcare providers and other systems all over North America. PointClickCare partnered with a private equity firm last year, which valued the company at approximately $5-billion (Canadian).