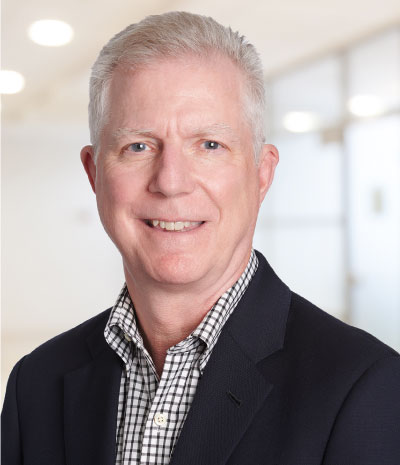 Bolt Biotherapeutics (NASDAQ:BOLT) is developing tumor-targeting therapies that leverage the power of basic components of the innate and adaptive immune systems to attack the tumor microenvironment.
"We've demonstrated preclinically that this approach allows us to train the immune system to recognize and destroy a tumor, as well as leave a subject with an immunologic memory of their tumor," Randall Schatzman, Ph.D. and CEO of Bolt, says in an interview with BioTuesdays.
"So, if the cancer comes back, as it often does, the immune system will continue to recognize and eliminate the tumor without retreatment," he contends.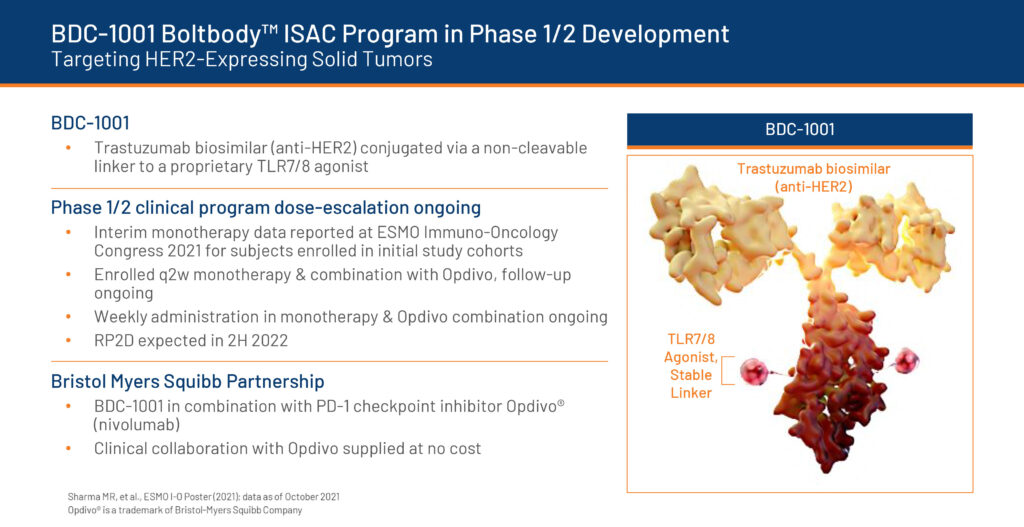 After a pipeline review in August 2022, Bolt is now focused on development of BDC-1001, a Boltbody immune-stimulating antibody conjugate (ISAC), and BDC-3042, a Dectin-2 agonist antibody. The company also is advancing next-generation ISAC programs with partners.
Dr. Schatzman explains that ISACs are a new category of immunotherapy that combines the precision of antibody targeting with the strength of the innate and adaptive immune systems.
"We believe our approach is furthest along and most successful," he adds. "Much of the sector's focus with immunotherapies has targeted the adaptive side of the immune system, with very favorable outcomes but only a subset of cancer patients. So, we decided to start with the innate immune system, which is the primitive side that surveys for foreign invaders, to see if we could initiate a new and more robust response for cancer."
Boltbody ISACs comprise three primary components: a tumor-targeting antibody, a non-cleavable linker, and a proprietary immune stimulant to activate the patient's innate immune system, Dr. Schatzman says.
"By initially targeting a single marker on the surface of a patient's tumor cells, an ISAC can create a new immune response by activating and recruiting myeloid cells," he adds.
Myeloid cells are a group of immune cells belonging to the innate immune system and are abundant in many solid tumor types, which "Bolt feels is the greatest unmet medical need." Dr. Schatzman says these cells can stimulate anti-tumor effects in the body, including direct tumor cell killing as well as activation of tumor-specific T-cells to support durable anti-tumor immune responses and immunological memory.
The activated myeloid cells release pro-inflammatory cytokines and chemokines that attract other immune cells and lower the activation threshold for an immune response, he adds. "This reprograms the tumor microenvironment and invokes an adaptive immune response that targets the tumor, with the goal of durable responses for patients with cancer."
BDC-1001 is a HER2 (human epidermal growth factor receptor 2) ISAC, comprising a HER2-targeting biosimilar of trastuzumab with a non-cleavable linker to a TLR7/8 antibody that brings the immune-stimulating agent to the tumor without acting systemically and causing toxicity.
"So, instead of BDC-1001 being a toxin, in this case, it is designed to effectively hijack a patient's immune system to destroy their cancer."
Biweekly and weekly dosing regimens of BDC-1001 are currently being evaluated in a Phase 1/2 clinical trial in patients with HER2-expressing solid tumors. A dose-escalation monotherapy part of the study is running in parallel with a combination study of BDC-1001 and Bristol Myers Squibb's Opdivo, or nivolumab, a PD-1 checkpoint inhibitor.
Bolt is completing the combination study and expects to release Phase 1/2 data in early 2023 along with recommended Phase 2 doses.
Interim monotherapy data presented by Bolt at the European Society of Medical Oncology Immuno-Oncology Congress 2021 demonstrated a safe and well-tolerated profile with early clinical activity and durable disease control in 13-of-40 evaluable patients across various tumor types, supporting continued dose escalation and evaluation of a weekly dosing regimen.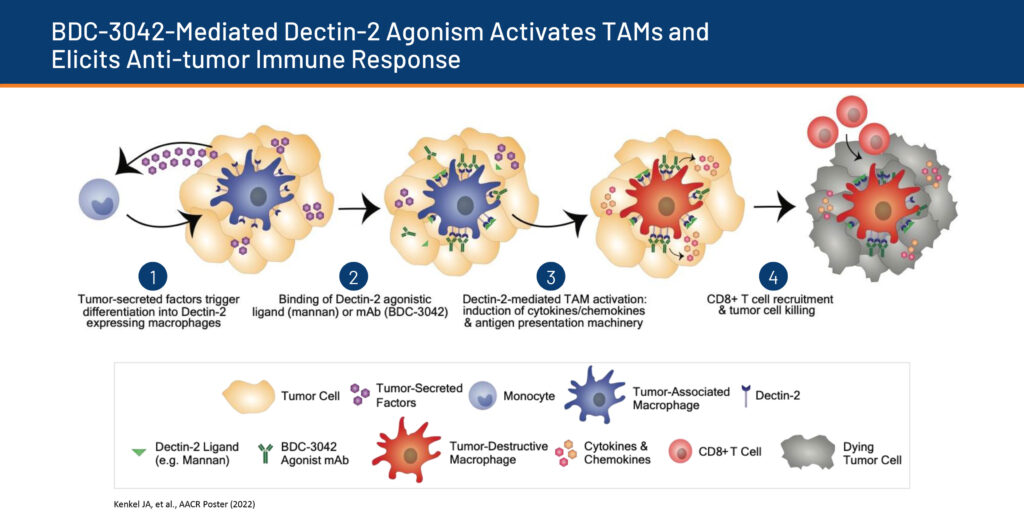 Bolt's second oncology asset, BDC-3042, is a myeloid modulating agonist antibody targeting Dectin-2, an innate immune receptor found on the surface of macrophage cells, which can present antigens to T-cells and initiate inflammation by releasing cytokines that activate other cells. In preclinical studies, BDC-3042 has demonstrated the ability to convert tumor-supportive macrophages into tumor-destructive macrophages.
"This is another way of accomplishing what we do with BDC-1001, but just with an antibody," Dr. Schatzman suggests.
Bolt currently is conducting IND-enabling studies of BDC-3042, with plans to submit an IND in the first half of 2023 and start a Phase 1 study the same year.
In April 2022, the company presented preclinical data for BDC-3042 at the American Association of Cancer Research annual meeting. The data showed the potential of ISACs to eradicate tumors in animal models, which led to immunological memory of tumor-antigen positive and tumor-antigen negative tumors, suggestive of epitope spreading, Dr. Schatzman adds.
In addition to its collaboration with Bristol Myers Squibb, Bolt is developing next generation Boltbody ISACs with Genmab of Denmark, Innovent Biologics of China and Toray of Japan. The collaborations allow Bolt to access their partners' antibodies and proprietary targets.
In the Genmab collaboration, for example, Bolt received $25-million up-front and is eligible for $285-million in milestones and royalties for each of three programs to fund three bispecific ISACs through early clinical development.
• • • • •
To connect with Bolt Biotherapeutics or any of the other companies featured on BioTuesdays, send us an email at [email protected].