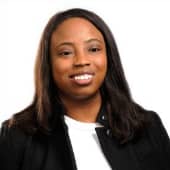 Graphite Bio (NASDAQ:GRPH) appointed Alethia Young as CFO, effective April 1, to oversee the company's finance, investor relations and corporate communications functions, and to play a key role in overall corporate strategy.
Ms. Young joins Graphite Bio from Cantor Fitzgerald, where she served as senior biotech analyst and head of research, managing the equity research department covering small-cap, mid-cap and large-cap biotechnology companies.
Ms. Young has more than 20 years of experience in healthcare and biotech equity research and investing. Prior to joining Cantor in 2018, Ms. Young held senior biotech analyst positions at Credit Suisse and Deutsche Bank. Earlier in her career, she was a research policy analyst and president at Marwood Group, providing healthcare-focused advisory services to institutional investors.
In a statement, Josh Lehrer, M.D. and CEO of Graphite, said Ms. Young is one of the most highly respected analysts in the healthcare sector and has been lauded for her deep insights and unparalleled expertise in the biopharma industry.
"Alethia will be an invaluable addition to the executive team as we work to leverage the full capabilities of our next-generation gene editing platform and advance our mission to develop one-time cures for patients," he added.
Ms. Young said that having evaluated numerous companies and platform technologies, "I am especially excited about Graphite Bio's next-generation platform and its ability to harness the power of high-efficiency homology directed repair to find and replace any gene in the genome, thereby realizing the full promise of gene editing."
Ms. Young said that she is looking forward to partnering with the team to deliver "curative therapies for genetic diseases and transform the entire patient gene therapy treatment journey, starting with sickle cell disease."