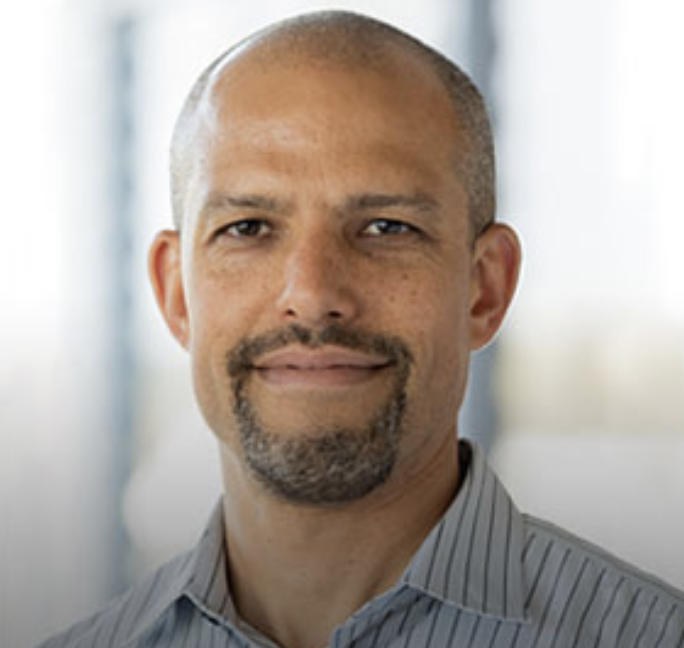 Genocea Biosciences (NASDAQ:GNCA) is on a mission to make better cancer immunotherapies for patients, beginning with better target discovery.
The company is currently setting sights on the development of its cancer immunotherapy candidate, GEN-011, a potential best-in-class investigational adoptive T-cell therapy, representing a new category of autologous solid tumor cell therapy designed to improve on the current limitation of TIL and TCR-T therapies.
GEN-011 neoantigen-activated peripheral T-cells (NPTs) are peripheral blood T- cells activated by patient-specific neoantigens, identified by the ATLAS platform and expanded to create a custom and personalized therapeutic. ATLAS, Genocea's unique and proprietary discovery platform, is designed to comprehensively profile each patient's T-cell responses to potential targets, or antigens, on that patient's tumor.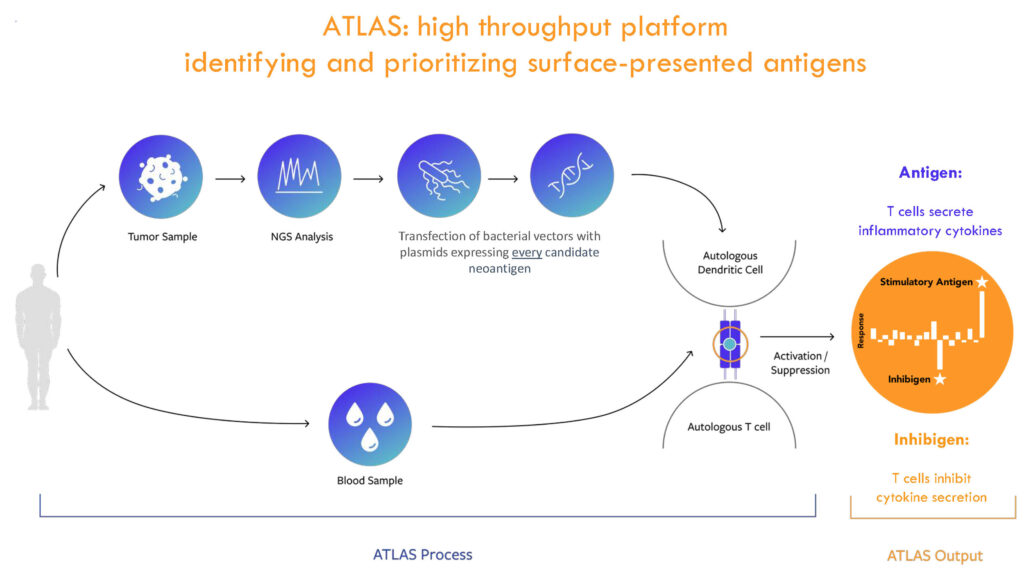 "ATLAS zeroes in on both antigens that activate anti-tumor T-cell responses and inhibitory antigens, or Inhibigens, that drive pro-tumor immune responses," Chip Clark, president and CEO of Genocea, said in an interview with BioTuesdays.
"We believe our GEN-011 therapy employs better targeting, using our ATLAS platform to select optimal neoantigen targets that drive anti-tumor immune responses and avoid immunosuppressive Inhibigens, and better T-cells, derived from easily accessible peripheral blood as opposed to the tumor itself," Mr. Clark says.
Genocea is conducting a Phase 1/2a (TiTAN) open-label, multi-center trial evaluating safety, tolerability, T-cell persistence and proliferation, and clinical efficacy of GEN-011 in patients with immune responsive tumors that have not achieved an adequate response with checkpoint inhibitors.
Targeted indications include melanoma, non-small cell and small cell lung cancer, squamous cell carcinoma of head and neck cancer, renal cell carcinoma, squamous cell carcinoma of the skin, and squamous cell carcinoma.
The trial is testing two dosing regimens: a single high-dose administration of GEN-011 after lymphodepletion in up to 12 patients and a repeated lower-dose regimen of GEN-011 without lymphodepletion in up to 12 patients. Both groups will receive interleukin-2 after GEN-011 dosing to maximize the tumor-killing potential of the infused cells. Genocea expects initial data from a small subset of refractory patients in the first half of 2022.
In order to produce GEN-011, Genocea has established a robust and scalable manufacturing process, PLANET, which delivers billions of neoantigen specific T- cells to each patient, simplifying and expanding cancer patient access to therapy.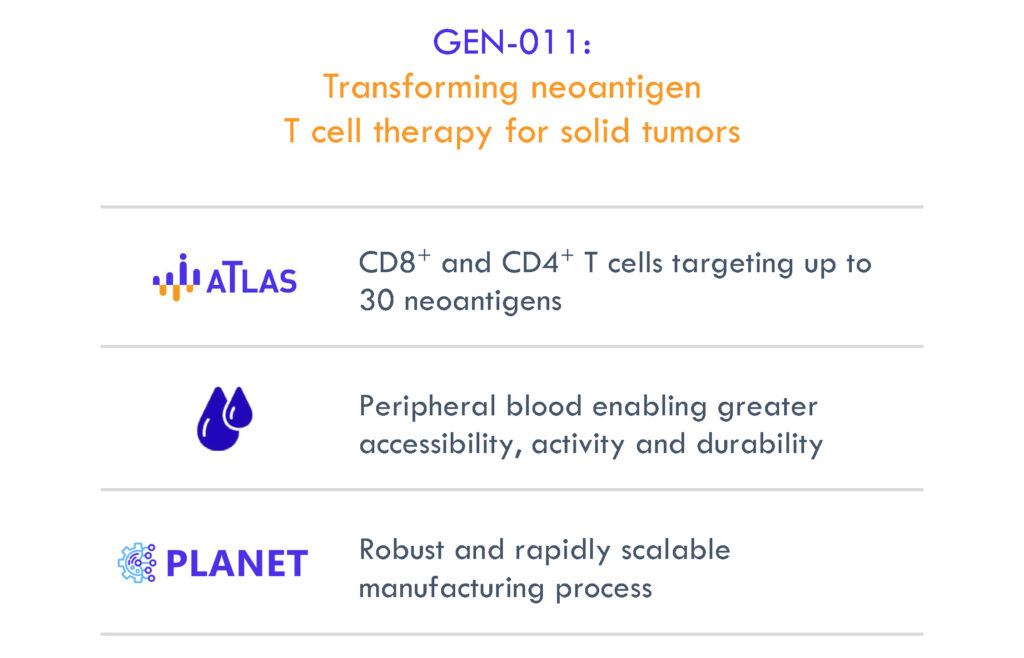 "We think GEN-011 has the potential to transform neoantigen T-cell therapy for solid tumors," Mr. Clark says. "Through our ATLAS process, we have the chance to ensure a breath of attack against the right targets with our PLANET manufacturing process, using peripheral blood. And we have the ability to ensure that fresher, stronger T-cells are mounting the attack."
Mr. Clark explains that ATLAS is a genuine bioassay, not a machine learning prediction platform, which means it provides "accurate data indicative of each patient's unique immune response against their own tumor mutations, taking the guesswork out of cancer immunotherapy development. Our immunotherapies are rationally designed to stimulate potentially beneficial immune responses against each patient's unique cancer, and only ATLAS can identify the correct antigens to target and the antigens to avoid. That's why targets matter."
The ATLAS assay begins with a tumor biopsy sample from each patient to ensure that the assay input includes the majority of unique tumor mutations. The company also takes a peripheral blood sample to collect immune cells. "We then use next generation sequencing to identify tumor-specific mutations, or potential neoantigens in order to generate unique DNA plasmids encoding each candidate neoantigen."
From there, the plasmids are cloned into Genocea's E. coli libraries. The bacteria individually express each candidate neoantigen for testing using the patient's immune cells, isolated from the collected blood sample. The patient's specialized immune cells, antigen presenting cells, take up the bacteria expressing the tumor-specific mutation and bring the antigen pieces to the surface of the cell for presentation to the patient's T cells, the immune cells responsible for recognizing and killing tumors.
According to Mr. Clark, ATLAS is highly scalable as a singular platform, and identifies all surface-presented peptides eliciting anti-tumor T-cell responses; delivers cell therapies and vaccines that minimize tumor escape; avoids Inhibigens that may be detrimental to clinical response; identifies both CD8+ and CD4+ T-cell neoantigen targets to deliver cell therapies and vaccines that provide a powerful, comprehensive anti-tumor immune response; and provides superior clinical responses.
In addition, ATLAS is the "only technology that can identify these Inhibigens, which subvert anti-tumor immune responses in the context of cancer immunotherapy," he adds. A growing body of foundational research led by the Genocea team has revealed the responses to Inhibigens enhance tumor growth and undermine otherwise effective immunotherapies.
The company also is utilizing its ATLAS platform in the continuation of a Phase 1/2a clinical trial evaluating the safety, immunogenicity and efficacy of their lead neoantigen vaccine candidate, GEN-009.
At ASCO 2019, Genocea presented partial data from a Phase 1/2a study of its GEN-009 vaccine, in which patients in the study had an average of 14 antigens in their personalized vaccine and GEN-009 was able to detect immune responses post-vaccination to 99% of those antigens. The consensus results from other companies in the field demonstrated immune responses to only 60% of their vaccine cargo in similar patients, he adds.
"This was the first indication that our ATLAS platform is finding the right antigens to drive an anti-tumor response," he adds. "Our abstract received a Top 10 immuno-oncology award at ASCO 2019, which is a big deal in the field."
During 2020 and 2021, Genocea has presented additional data that ATLAS enabled a compelling signal of GEN-009 response in checkpoint-sensitive patients and that GEN-009 prolonged stable disease in checkpoint-resistant patients for up to 10 months post-vaccination.
For Genocea, upcoming GEN-011 data and further research on the potential applications of NPTs and Inhibigens indicates a "bright future for the company," Mr. Clark says.
But, with an existing suite of potential best-in-class neoantigen immunotherapies driven by a comprehensive, scalable and well-protected platform that lays the foundation for effective treatments, Mr. Clark and his team are "already on the path to developing better cancer immunotherapies for the patients who need them most," he adds.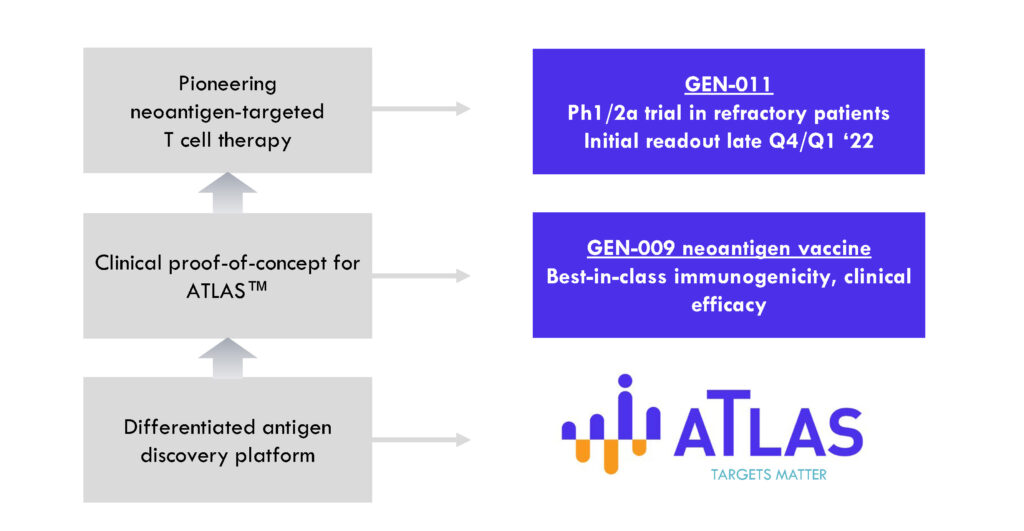 • • • • •
To connect with Genocea Biosciences or any of the other companies featured on BioTuesdays, send us an email at editor@biotuesdays.com.