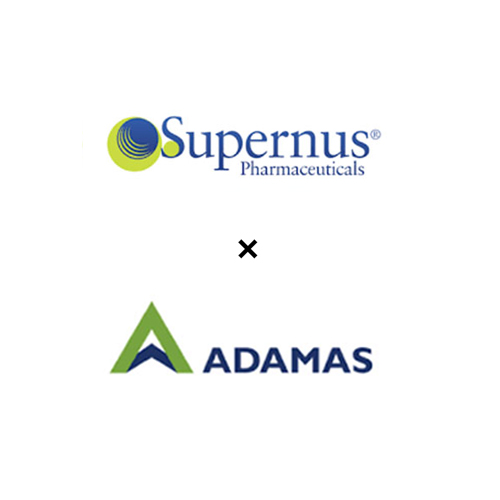 Supernus Pharmaceuticals (NASDAQ:SUPN) agreed to acquire Adamas Pharmaceuticals (NASDAQ:ADMS) in a tender offer for $8.10 a share in cash, or about $400-million plus two non-tradable contingent value rights (CVR).
The first CVR, worth 50 cents a share, is payable on Adamas' GOCOVRI achieving net sales of $150-million in any four consecutive quarters between closing and the end of 2024. The second CVR, also worth 50 cents a share, is payable on GOCOVRI achieving net sales of $225-million in any four consecutive quarters between closing and the end of 2025.
The transaction, which has been approved by the boards of both companies, is expected to close late in the fourth quarter 2021 or early in the first quarter 2022.
The transaction will provide Supernus with two marketed products: GOCOVRI extended-release capsules, the first and only FDA-approved medicine indicated for the treatment of both OFF and dyskinesia in patients with Parkinson's disease receiving levodopa-based therapy.
The second product, Osmolex ER extended-release tablets, is approved for the treatment of Parkinson's disease and drug-induced extrapyramidal reactions in adult patients.
"This acquisition represents a significant step to further build a strong and diverse Parkinson's disease portfolio and aligns with our focus of acquiring value-enhancing, clinically-differentiated medicines to treat CNS diseases," Jack Khattar, president and CEO of Supernus, said in a statement.
"We have a proven track record of strong commercial execution and look forward to building on GOCOVRI's growth momentum so that more patients can benefit from access to Adamas' innovative neurological therapies," he added.
Net sales of GOCOVRI were $71.2-million for all of 2020 and $37.7-million for the half of 2021. Supernus expects potential synergies of $60-million to $80-million in year one due to an overlap of existing infrastructures. The acquisition is expected to be significantly accretive in 2022.
Neil McFarlane, CEO of Adamas, said that with their shared commitment to helping patients affected by neurological diseases and their extensive resources, Supernus can continue to advance our mission and reach. "I am … confident that partnering with Supernus will maximize the potential of our innovative therapies," he added.