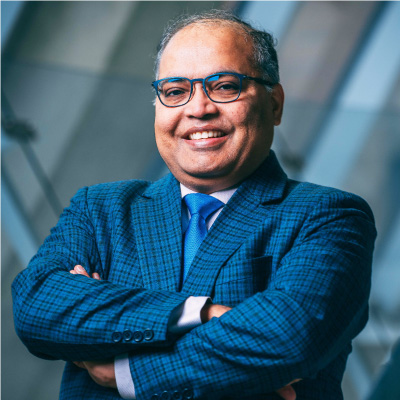 Closely-held Lucid Psycheceuticals' next generation approach to total brain health is targeting the interface between mental health and neurodegenerative disorders with therapeutic products inspired by psychedelics and new chemical entities.
"Depression, anxiety, dementia and similar conditions often are early symptoms to more serious neurodegenerative diseases, such as Alzheimer's disease and multiple sclerosis," Lucid founder and CEO, Lakshmi Kotra, Ph.D., says in an interview with BioTuesdays.
Dr. Kotra explains that in its mental health R&D program, Lucid engaged machine learning tools and in vitro work on six psychedelics for the selection of pre-clinical lead, and hopes to have a preclinical candidate ready for an IND submission in 18-to-24 months. Lucid was incorporated in July 2020.
In its neurodegenerative program, the company in May 2021 licensed worldwide exclusive rights to a patent portfolio of preclinical new chemical entities from Toronto's University Health Network, a world-leading research hospital.
"We have full access to licensed laboratories for controlled substances research at UHN via research contracts and our team has significant experience driving laboratory observations into clinical assets, with significant IP protections," he adds.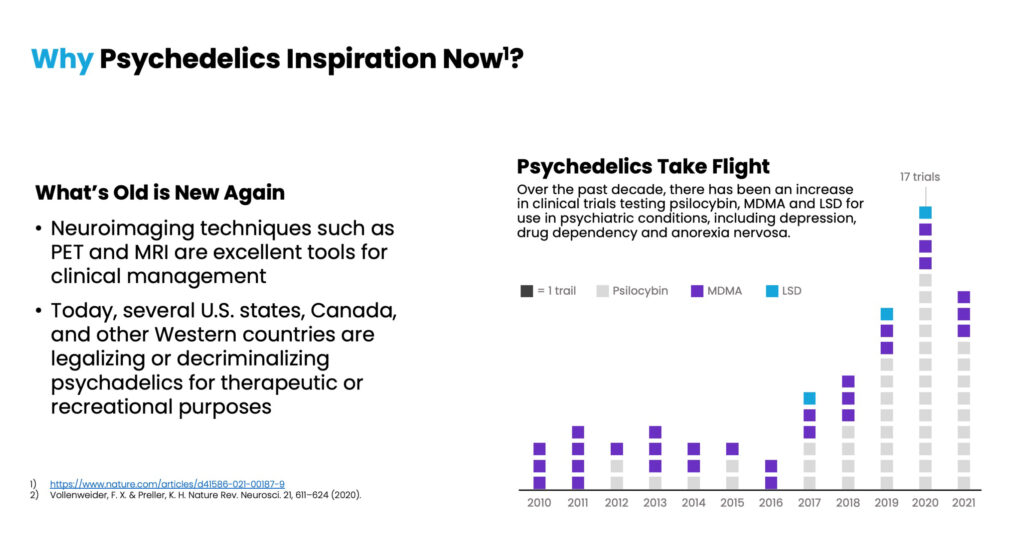 Clinical research on psychedelics traces its roots to the 1950s and 1960s when scientists published more than 1,000 articles on using psychedelics as a psychiatric treatment. Drugs were tested on some 40,000 people.
Over the past decade, there has been an increase in clinical testing of psilocybin; MDMA, which is commonly known as ecstasy; and LSD for use in psychiatric conditions, including depression, drug dependency and anorexia nervosa.
COMPASS Pathways PLC, for example, is developing a proprietary formulation of psilocybin for treatment-resistant depression, while Spravato, a ketamine-based drug from J&J, is expected to generate sales of more than $1.3-billion annually.
Research studies suggest the psychedelics market for mental illness is forecast to grow to $6.9-billion by 2027 from $2-billion in 2019.
"What we bring to the table are the latest in neuroimaging techniques, such as PET and MRI, for the development of next-generation compounds for mental health disorders," Dr. Kotra points out.
Lucid's first mental health program is major depressive disorder, which is characterized by depressed mood or loss of interest in pleasure for at least two weeks as well as periods of remission and relapse during a person's life. There are some 13 million adults with major depressive disorder in the United States. First-line treatment is antidepressants with or without psychotherapy.
The company has identified Lucid-201 as its first molecule for the treatment of major depressive disorder based on machine learning of its pharmaceutical and metabolic properties, as well as for its potential proprietary position.
Research is underway and the company is undertaking formulation development and controlled substances manufacturing of Lucid-201, leading to clinical batch manufacturing of its first pipeline compound in the first quarter of 2022.
Dr. Kotra suggests IND approval for Lucid-201 could be obtained by the fourth quarter of 2022, potentially setting the stage for a Phase 1 clinical study.
Lucid's neurodegenerative program is focusing on multiple sclerosis. The disease is a chronic inflammatory and neurodegenerative disorder of the central nervous system, which affects approximately 2.5 million people worldwide, of which one million are in the U.S.
Multiple sclerosis is characterized by an unpredictable pattern of symptoms, such as tingling, vision problems and mobility issues, resulting from an immune system attack at any time on myelin, the insulation covering neurons.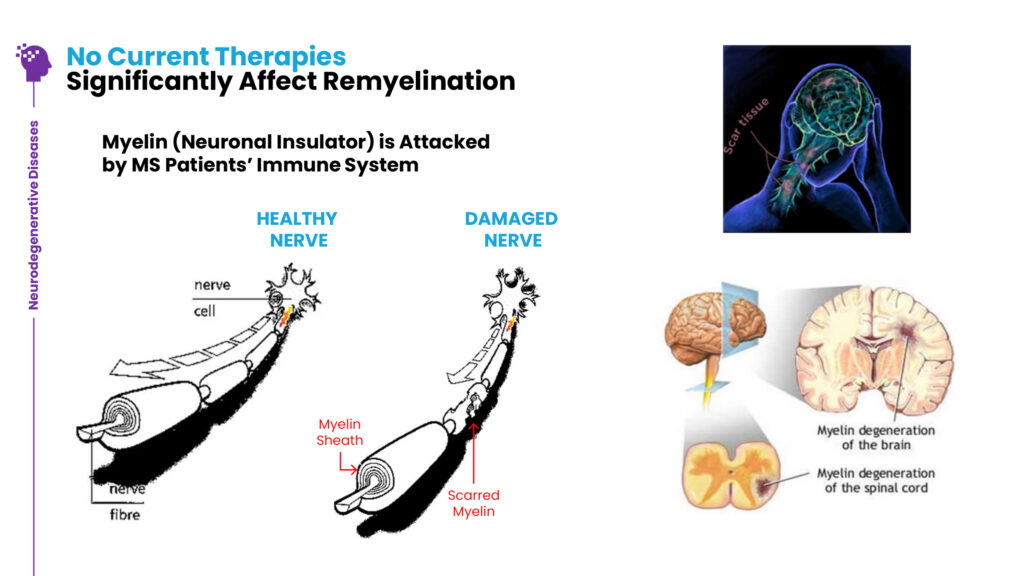 "If the insulation is gone, signaling from the brain is disrupted," Dr. Kotra says, adding that the damage MS does to nerves can also affect critical thinking and other cognitive skills. There are no therapies that can significantly affect remyelination.
Lucid's lead compound for the potential prevention and reversal of pathology of multiple sclerosis is Lucid-21-302, a new chemical entity, based on more than 10 years of research data. "We have obtained convincing preclinical data in multiple MS animal models."
Preclinical toxicology and IND-enabling studies are underway, Dr. Kotra says, adding that significant effort is underway for scalable manufacturing technology and reference materials for preclinical development of Lucid-21-302. The company is targeting the fourth quarter of 2022 to potentially initiate a Phase 1 study of Lucid-21-302.
"For a one-year-old company, we are very pleased with our progress," Dr. Kotra says. "We have established two pipeline molecules in neurodegeneration diseases and neuropsychiatric disorders, achieved proof-of-concept of our IP and expanded our portfolio of potential molecules."
• • • • •
To connect with Lucid Psycheceuticals or any of the other companies featured on BioTuesdays, send us an email at editor@biotuesdays.com.