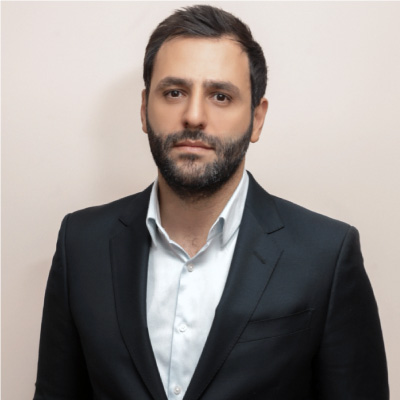 Cognetivity Neurosciences (CSE:CGN; OTCQB:CGNSF) is using artificial intelligence to enable early detection of cognitive decline in neurodegenerative disorders, such as dementia and Alzheimer's disease, the leading cause of dementia, up to 15 years earlier than conventional testing systems.
The company has developed the Integrated Cognitive Assessment (ICA) platform, a simple, five-minute and sensitive app-based alternative to existing time-consuming pen and paper assessments that are conducted by clinicians.
"Simple and non-invasive, the ICA detects the earliest signs of disease before the onset of memory symptoms," Sina Habibi, Ph.D., a co-founder and CEO, says in an interview with BioTuesdays.
"The ICA has the potential to transform treatment and care for millions of dementia sufferers around the globe, enabling earlier intervention to delay onset and reduce mortality."
He says current assessment methods are limited by "imprecision, assessor bias and differences in interpretation." Traditional tests require face-to-face meetings with no capacity for remote testing; are impacted if a patient is not a native speaker; have an education bias with the higher a patient's education, the better they will score; and a learning effect that enables patients to appear to be getting better over time because they learn how to do the test.
"These traditional tests are suited to late-stage diagnosis but display a lack of sensitivity to early-stage disease for timely diagnosis," he adds.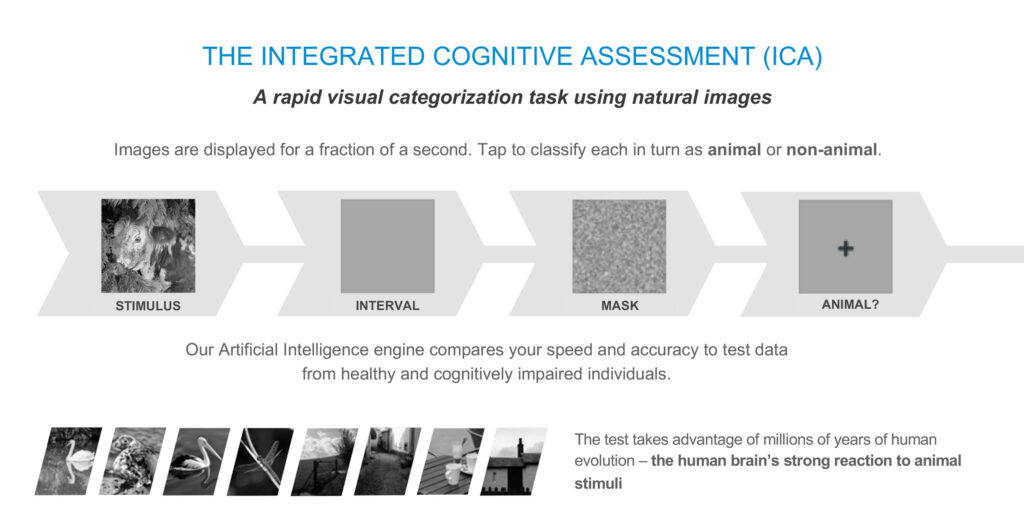 Dr. Habibi explains that ICA test, which is performed on an Apple tablet, uses 100 images displayed for a fraction of a second each over five minutes. Subjects are asked to respond with a yes or no, to whether they see an animal in an image.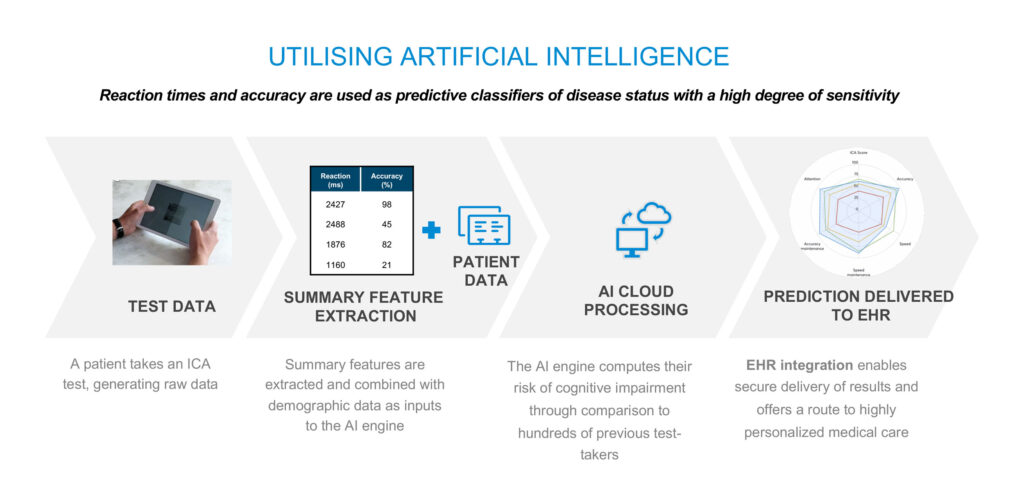 Cognetivity's AI engine compares an individual's speed and accuracy to test data from healthy and cognitively impaired people. The test takes advantage of millions of years of human evolution: the brain's strong reaction to animal stimuli, he contends.
"Some images are simple like a bear in a green background or more complex like a bird at the edge of a forest, which takes longer for the brain to analyse and is more susceptible to mistakes," he adds. "Reaction times and accuracy are used as predictive classifiers of disease status with a high degree of sensitivity."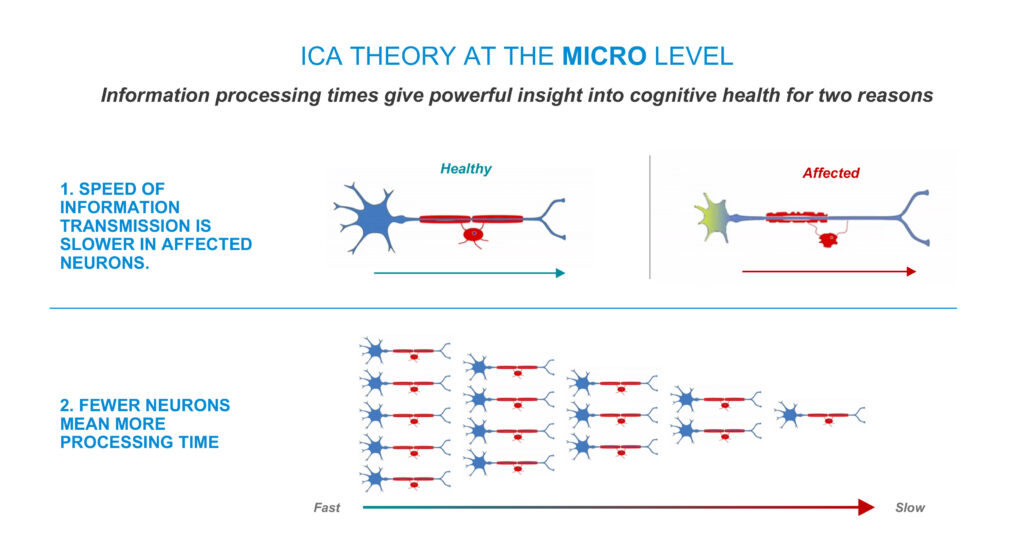 Dr. Habibi points out that at the micro level, information processing times give powerful insights into cognitive health for two reasons: speed of information transmission is slower because of affected neurons and fewer neurons mean more processing time.
"Engaging large volumes of neuronal pathways and brain structures gives greater sensitivity to mild impairment than memory-focused tests," he contends, adding that the ICA engages key areas of the brain associated with the earliest stages of cognitive decline, such as the motor cortex and visual cortex.
"Thanks to our AI engine, the ICA is always improving in sensitivity to a new test-takers score through comparison with learned clusters," he suggests. "Through machine learning, our AI engine can be continually updated with clinical data from more patients to improve its sensitivity and specificity over time."
In addition, Cognetivity's AI-powered system can take into account an unlimited number of patient attributes, including sex, age and education level, through electronic health records.
The ICA also has the potential to assess patients in the comfort of their homes and enables long-term tracking of pre-dementia patients or their responses to treatment, a significant competitive advantages for healthcare providers.
The company received CE Mark approval for the ICA in December 2019 and at the start of 2020, the ICA was awarded regulatory approval by the UK's Medicines and Healthcare Products Regulatory Agency.
In September 2020, Cognetivity signed its first agreement to deploy the ICA through the UK National Health Service. The first phase of the deployment is providing technology to enhance the quality and efficacy of dementia assessments at one of the country's leading mental health trusts, North Staffordshire Combined Healthcare NHS Trust – one of only two specialist mental health trusts in England and a leading center of excellence for the treatment of neurodegenerative conditions.
In November 2020, the company achieved its first NHS primary care deployment in Sunderland, England. "This NHS breakthrough was particularly significant because it provided first-ever disease monitoring capabilities to primary healthcare physicians for identifying and treating patients with mild cognitive impairment, the critical but difficult to diagnose early stage in diseases, such as dementia," Dr. Habibi points out.
Cognetivity is in the process of preparing to file with the FDA for approval to use the ICA for clinical cognitive assessment in the U.S.
The company was selected in December 2020 by the Texas Medical Center Innovation Accelerator (TMCx) as a breakthrough healthcare technology. The center focuses on clinical partnerships that can facilitate commercialization in the U.S.
"We have already discussed some very exciting partnership opportunities with TMC members," Dr. Habibi says. "And we look forward to strengthening those relationships and developing further opportunities that build on our early traction in clinical use with NHS in the UK."
Dementia is expected to be the biggest healthcare challenge of the 21st century. Between 2000 and 2018, deaths in the U.S. from heart disease fell by 7.8% while deaths from Alzheimer's disease increased by 146%. Alzheimer's on its own is the sixth-largest cause of death in the U.S., killing more than breast, prostate and pancreatic cancers combined.
Dementia afflicts 54 million people and is expected to rise to 130 million by 2050, with the U.S. Alzheimer's Association estimating early diagnosis of people with mild cognitive impairment could save almost $8-trillion in health and care costs.
Cognetivity Neurosciences was spun out of the University of Cambridge, where the ICA was originally developed by its founders, and remains based in London, with an office in Vancouver, Canada, that is focused on North American operations. Since going public in late 2018, the company has been carrying out clinical validation for ICA and real-world piloting studies with clinicians from the UK's NHS.
Last month, Cognetivity established a partnership with InterSystems of Cambridge, Mass., a leading provider of data technology, to facilitate the seamless integration of its cognitive assessment platform with electronic healthcare records and enable the adoption of Cognetivity's technology in healthcare systems throughout the world.
Under the accord, Cognetivity will gain access to InterSystems' IRIS for Health, a data platform specifically engineered to extract value from healthcare data. The platform will provide interoperability between Cognetivity's ICA platform and electronic healthcare records, with full, built-in compliance with key data standards, according to Dr. Habibi.
Cognetivity's technology also has the potential to impact other healthcare industries, such as drug discovery, health insurance, corporate health and consumer wellness. "Sensitivity to early-stage disease offers a potential solution to the difficulties of subject recruitment for clinical trials, and can help measure the impact of a drug over time," he points out.
Dr. Habibi says the battle against Alzheimer's and dementia will remain an ongoing challenge for decades to come, but the sector is getting closer to a time when the progress of this disease can be stopped or even reversed, and accurate early detection is key to that ultimate goal.
"We believe that our technology has an integral part to play in this endeavor, and that we are ideally poised to make significant progress towards helping improve the prospects for millions of sufferers worldwide."
• • • • •
To connect with Cognetivity Neurosciences or any of the other companies featured on BioTuesdays, send us an email at editor@biotuesdays.com.