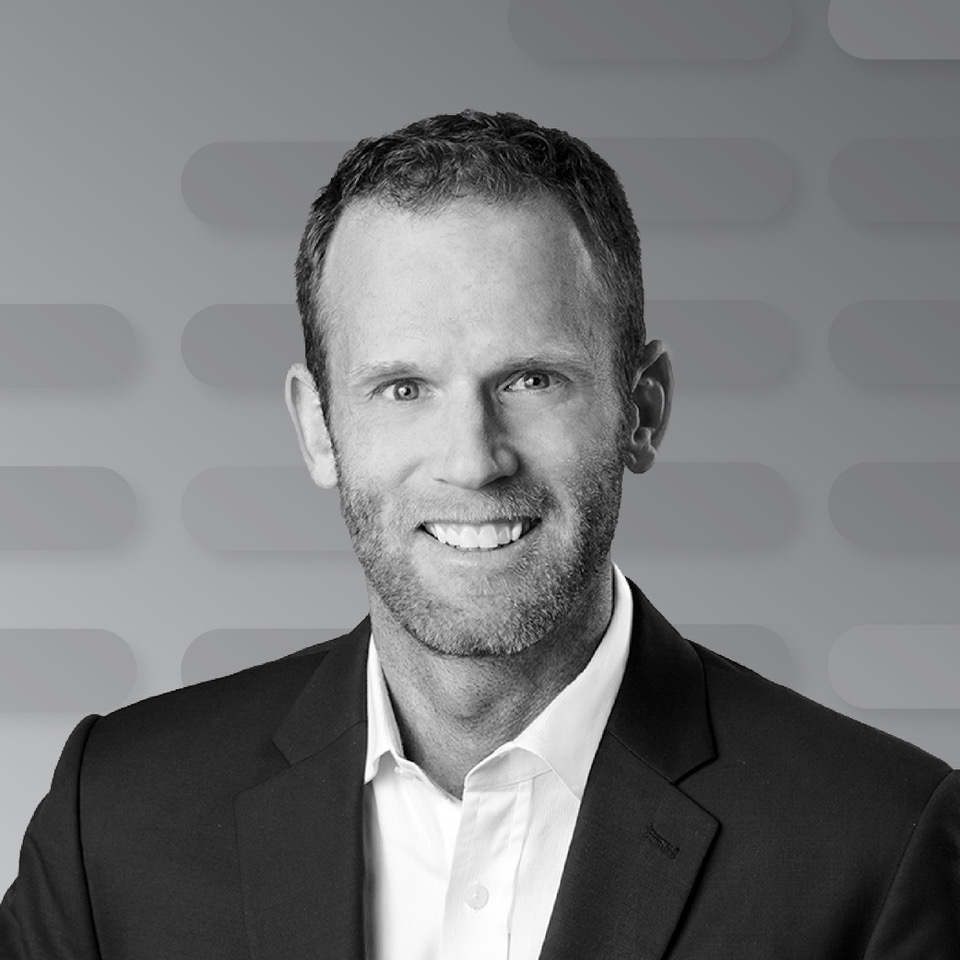 Lineage Cell Therapeutics (NYSE American, TASE:LCTX) expects to report important milestones in its cell therapy clinical programs in dry AMD, cervical spinal cord injury and oncology in 2021, as well as improve its manufacturing and delivery systems, and engage in partnering discussions.
"We're going to be a very different company in 2021," Brian Culley, CEO, says in an interview with BioTuesdays.
"The data from our OpRegen dry AMD program will mature and if we see additional retinal restoration, it could turn the field on its head. We're working hard to get our spinal cord program back into the clinic and we have enough money to get well into 2022. We also have multiple partnering opportunities. This is a great place to be as a product developer because each of our three programs has a billion-dollar commercial potential and an equally impactful opportunity to positively affect patients' lives."
Lineage's programs are based on a proprietary cell-based therapy platform and associated in-house development and manufacturing. "We start with a frozen vial of pluripotent stem cells and turn them into specific cell types that the body needs and then transplant them," he adds. No alteration is made to the cell's DNA.
Mr. Culley explains that these differentiated allogenic off-the-shelf cells are developed to either replace or support cells that are dysfunctional or absent due to degenerative disease or traumatic injury or administered as a means of helping the body mount an effective immune response to cancer.
"Our competitive advantage is the differentiation and in-house manufacturing of an unlimited supply of pluripotent stem cells into specialized cells," he says, adding that the technology is protected by hundreds of cell therapy-related patents.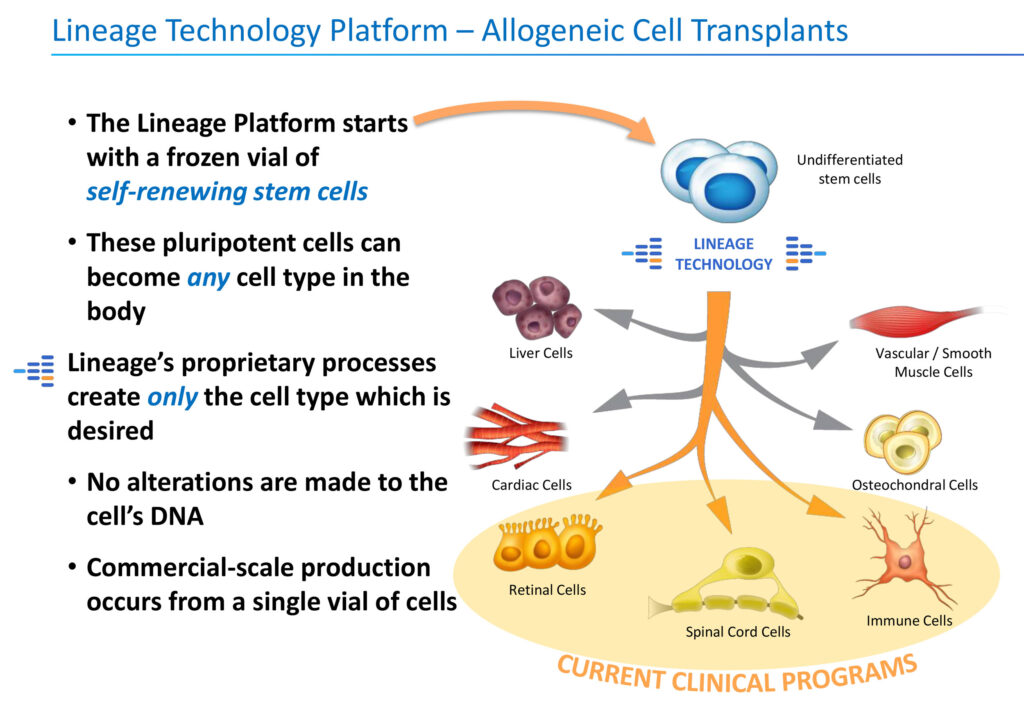 For example, Lineage manufactures specialized retinal cells that have died and then transplants them in the eye as a treatment for dry AMD with geographic atrophy, which is a specific area of cell death and a leading cause of blindness for which there are no FDA-approved treatments.
"Patients often don't know they have the condition until a large number of those retinal cells have died off and they begin to experience the first stages of vision loss," he points out. "We can't prevent the disease from happening, but soon after it happens, we hope to provide a patient an opportunity to be treated and avoid further reduction of their vision and independence."
Lineage's OpRegen, which has fast track designation from the FDA and financial support from the Israel Innovation Authority, is an injection of retinal pigment epithelium cells directly into the retina with the potential to replace lost retinal cells and preserve or improve vision.
The company also has an exclusive option to a recently approved delivery device, known as the Gyroscope SDS, which overcomes issues with the traditional method of delivering cells to the retina.
The traditional method, which lacks dose control, punctures the retina, which frequently leads to cells passing back into the vitreous cavity, potentially causing adverse events. Gyroscope Therapeutics' Subretinal Delivery System allows for access to the subretinal space via a cannula that moves along suprachroidal space without creating a hole in the retina and compromising its structural integrity, Mr. Culley contends.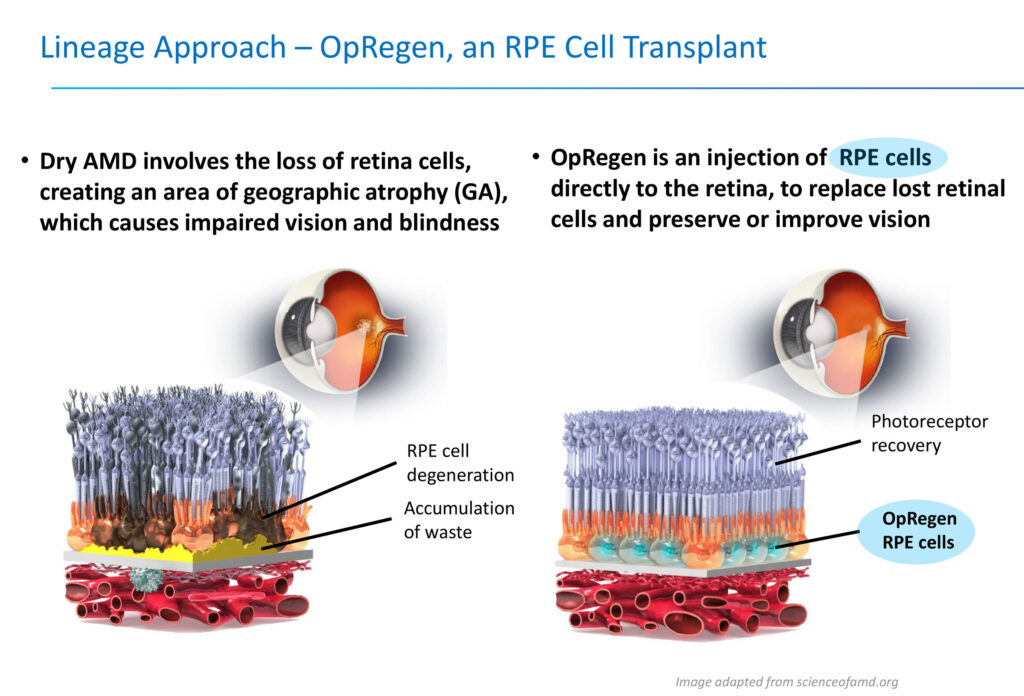 "We believe that the use of this device could dramatically decrease the number of adverse effects related to cell efflux as well as significantly improve dose control of cells in our clinical trials. Better dose control reduces variability, which can convert to smaller, faster clinical trials."
Lineage completed enrollment in a 24-patient Phase 1/2a clinical study of OpRegen in November 2020 and expects to report three- and six-month data in the first and second quarters of 2021, respectively.
At the 2020 American Academy of Ophthalmology annual meeting in November, Lineage reported positive interim results from the Phase 1/2a study, which featured the "first known finding of anatomical restoration of retinal tissue, which has persisted below baseline for 23 months and counting," Mr. Culley says. Humans are not capable of restoring retina tissue, which makes this finding all the more notable, he adds. Overall, OpRegen appears to be well-tolerated in all patients treated to date, with no cases of rejection.
New data presented at the meeting on 20 patients, including eight patients treated in Cohort 4, which Lineage considers to be the intended commercial population, demonstrated better baseline vision and smaller areas of geographic atrophy, he adds. All eight of these patients were treated with a new "thaw-and-inject" formulation of OpRegen and four were treated using Gyroscope SDS.
In addition, data showed improvements in visual acuity in Cohort 4 patients, with treated versus fellow eye comparisons reaching statistical significance at nine and 12 months following OpRegen administration. These improvements were maintained for up to 24 months in some patients, Mr. Culley says, adding that a trend towards slower geographic atrophy growth was observed in the first six patients, a trend maintained for as long as 24 months in patients with 24-month data available.
Mr. Culley points out that Lineage's manufacturing facility in Jerusalem is already at a pre-commercial scale, with cGMP production, to support a launch. Current production scale is five billion cells per bioreactor, with the ability to scale into larger reactors. OpRegen's "thaw and inject" formulation does not require any dose preparation and a mere five minutes is required to go from frozen cells to injection, he adds.
In its cervical spinal cord injury program, Lineage's goal of treatment with its OPC1 cell candidate is to provide additional upper extremity function to the limb, hand and fingers in order to improve quality of life and independence for patients. "This is an acute treatment delivered to a patient in the three-to-six week window after their injury, rather than in a chronic patient," Mr. Culley explains.
Lineage acquired the OPC1 program from Asterias Biotherapeutics and has made major improvements in production and quality of the OPC1 product. Among other things, Lineage has developed a new ready-to-inject formulation and eliminated the need for dose preparation. Lineage also achieved a 10-to-20-fold increase in production scale and significantly reduced the undesirable impurities in OPC1.
Mr. Culley explains that OPC1, which has received financial support from the California Institute for Regenerative Medicine, is an oligodendrocyte progenitor cell therapy that is derived from a pluripotent cell line and injected into a patient's spinal cord. Oligodendrocyte progenitor cells are naturally occurring precursors to the cells that provide electrical insulation for nerve axons in the form of a myelin sheath.
Top-line data from an earlier 25-patient Phase 1/2a dose escalation trial demonstrated that 96% of patients had gained at least one-level of improved motor function and 32% of patients had gained two or more levels of improved motor function. Cell engraftment was achieved in 96% of patients. To date, no serious adverse events have been observed with OPC1 cells, including a long-term follow-up of Phase 1 safety study patients.
"These results clearly support moving to later-stage clinical development," Mr. Culley says, adding that Lineage plans to meet with the FDA in the first half of 2021 to discuss recent manufacturing improvements and other improvements, which will permit a much greater number of trauma centers offering the clinical trial to patients.
According to the Christopher Reeve foundation, the costs of lifetime care for a spinal cord injury patient can reach $5-million. Mr. Culley points to data that shows a two-level improvement in cervical motor function can remove a patient from around-the-clock care, and improve mobility, independence, and quality-of-life.
"One of our patients was paralyzed from the neck down in a pickup truck accident and a year after our treatment, he was able to throw out the first pitch in a Major League Baseball game," he adds.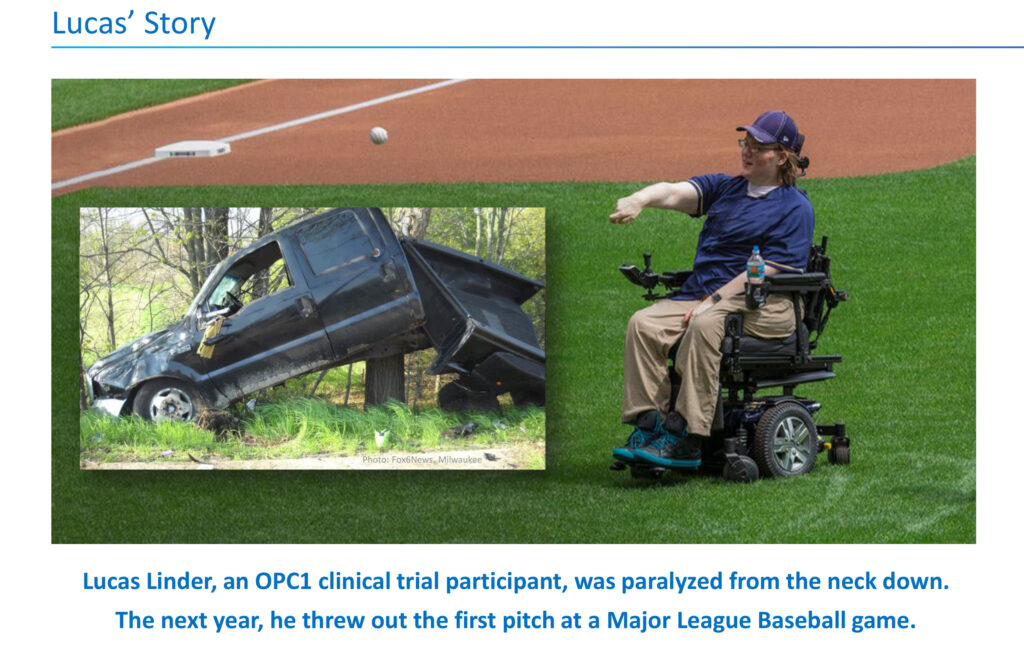 Lineage's oncology VAC platform consists of large-scale, off-the-shelf production of immune cells called dendritic cells, which are manufactured and loaded with either a tumor antigen to treat cancer or a viral antigen as a vaccine for infectious diseases. "Antigen presentation to a patient's T-cells is designed to create a targeted and robust immune response, aiding tumor cell destruction or viral clearance," Mr. Culley points out.

VAC2 is a non-patient specific cancer vaccine candidate designed to stimulate patient immune responses to a tumor marker commonly expressed in more than 85% of all cancers but not found in normal adult cells, leading to selective elimination of tumor cells. Clinical development of VAC2 is being conducted through a partnership with Cancer Research UK, which is responsible for costs and clinical trial studies.
In October 2020, Lineage announced encouraging preliminary results from the ongoing Phase 1 clinical study of VAC2 in non-small cell lung cancer (NSCLC). VAC2 demonstrated high T-cell immune responses in all patients dosed to date and appears to be well tolerated with no unexpected adverse events.
"On the basis of these findings, and following completion of the ongoing VAC2 clinical study in NSCLC, we plan to evaluate further development options for VAC2," Mr. Culley said. "At the same time, we are designing new VAC products with newly discovered antigens and identifying potential partnerships for more rapid expansion of the VAC platform."
• • • • •
To connect with Lineage or any of the other companies featured on BioTuesdays, send us an email at [email protected].