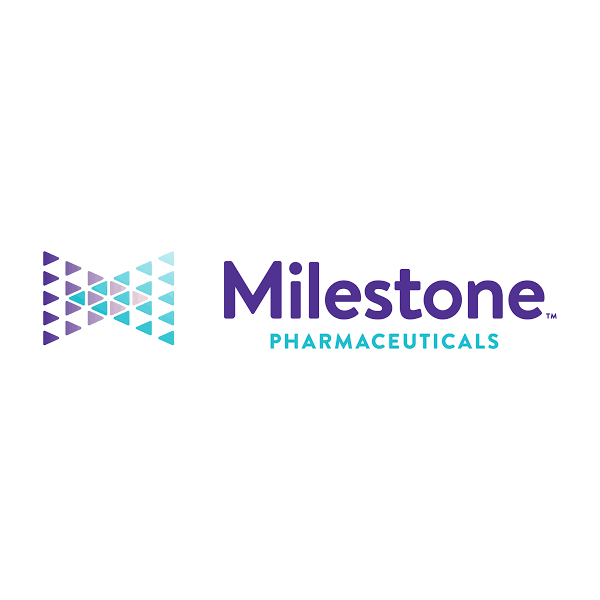 Milestone Pharmaceuticals (NASDAQ:MIST) enrolled the first patient in its Phase 3 RAPID trial evaluating etripamil for the treatment of paroxysmal supraventricular tachycardia (PSVT).
PSVT is characterized by intermittent episodes of rapid heart rate, with symptoms including palpitations, sweating, chest pressure or pain, shortness of breath, sudden onset of fatigue, light-headedness or dizziness, fainting, and anxiety. Certain calcium channel blockers have been approved for the termination of these episodes, but they must be administered intravenously.
Etripamil is a short-acting calcium channel blocker administered as a nasal spray.
The trial will enroll up to 500 patients who will receive either etripamil or placebo. Patients who do not experience symptom relief within 10 minutes of the first study drug administration will receive a second dose of study drug. The trial's primary efficacy endpoint is the time to conversion of SVT within 30 minutes following initial study drug administration.
Milestone previously reported topline results from its Phase 3 NODE-301 trial, which enrolled 431 patients to evaluate the efficacy of etripamil for terminating SVT episodes in the at-home setting. Etripamil did not achieve its primary endpoint of time to conversion of SVT to sinus rhythm over the five-hour period following study drug administration, compared with placebo. However, the trial demonstrated safety and tolerability data supportive of at-home use of etripamil.
In a statement, Joseph Oliveto, Milestone's president and CEO, said, "We remain very encouraged by physicians' reactions to the safety and efficacy results from the NODE-301 trial and believe the RAPID trial has the potential to demonstrate increased efficacy and improved overall clinical utility of etripamil."
Milestone expects to report data from the RAPID trial in late 2021 or early 2022.