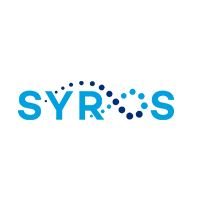 Brookline Capital Markets launched coverage of Syros Pharmaceuticals (NASDAQ:SYRS) with a "buy" rating and a 12-to-18-month price target of $19.00. The stock closed at $8.89 on Nov. 9.
Syros is developing gene-control therapies for cancer and other diseases. Its platform identifies the master switches for disease genes, opening a new approach to novel therapeutics, writes analyst Leah Cann. The company focuses on treating disease by mapping gene regulatory circuits and modulating the factors that regulate gene expression.
The company currently has two programs in clinical development in at least seven cancer populations, with multiple data readouts in 2020 and 2021, Ms. Cann said. Syros' lead product candidates are SY-1425 in hematologic cancers and SY-5609 in solid tumors.
The lead compound, SY-1425, is an experimental small molecule agonist to retinoic acid receptor alpha, which regulates gene transcription and cellular differentiation. "We anticipate data for SY-1425 at the 2020 ASH meeting," Ms. Cann said. The second compound, SY-5609, is a selective small molecule inhibitor of cyclin dependent kinase 7.
"Based on our expectation that Syros [could] launch its first product in the next few years, we estimate that Syros [could] have product revenue in 2023," she added.