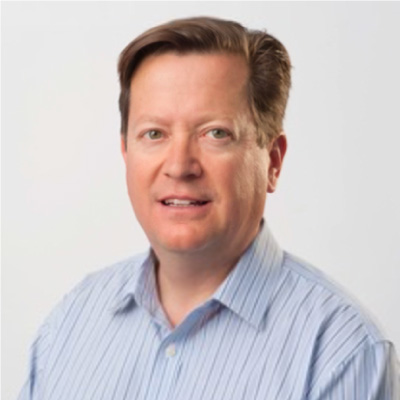 BioCardia (NASDAQ:BCDA) is developing two late-stage clinical autologous cell therapies, known as CardiAMP, for ischemic heart failure and chronic myocardial ischemia, a neurokinin 1 receptor positive (NK1R+) allogenic cell therapy for ischemic heart failure and an early program for acute respiratory distress syndrome and COVID-19.
"Cell therapy holds the promise to rejuvenate the heart, yet no cardiac cell therapy has been FDA-cleared," CEO Peter Altman says in an interview with BioTuesdays, noting that existing therapies, such as medication, cardiac resynchronization therapy, left ventricular assist devices and heart transplant, only slow disease progression.
BioCardia also has developed a percutaneous-based delivery system for cardiovascular regenerative medicine, known as Helix.
Dr. Altman explains that Helix enables local delivery of cell- and gene-based therapies to treat heart failure, myocardial infarction, ischemia, and cardiac conduction disorders. The Helix platform is being used in eight clinical and preclinical programs, three of which are BioCardia programs, he points out.
"Our CardiAMP cell therapy is designed to be a comprehensive biotherapeutic heart failure solution," Dr. Altman says. The therapy uses a patient's own bone marrow cells to potentially stimulate the body's natural healing response. It is delivered through Helix's minimally-invasive, catheter-based procedure.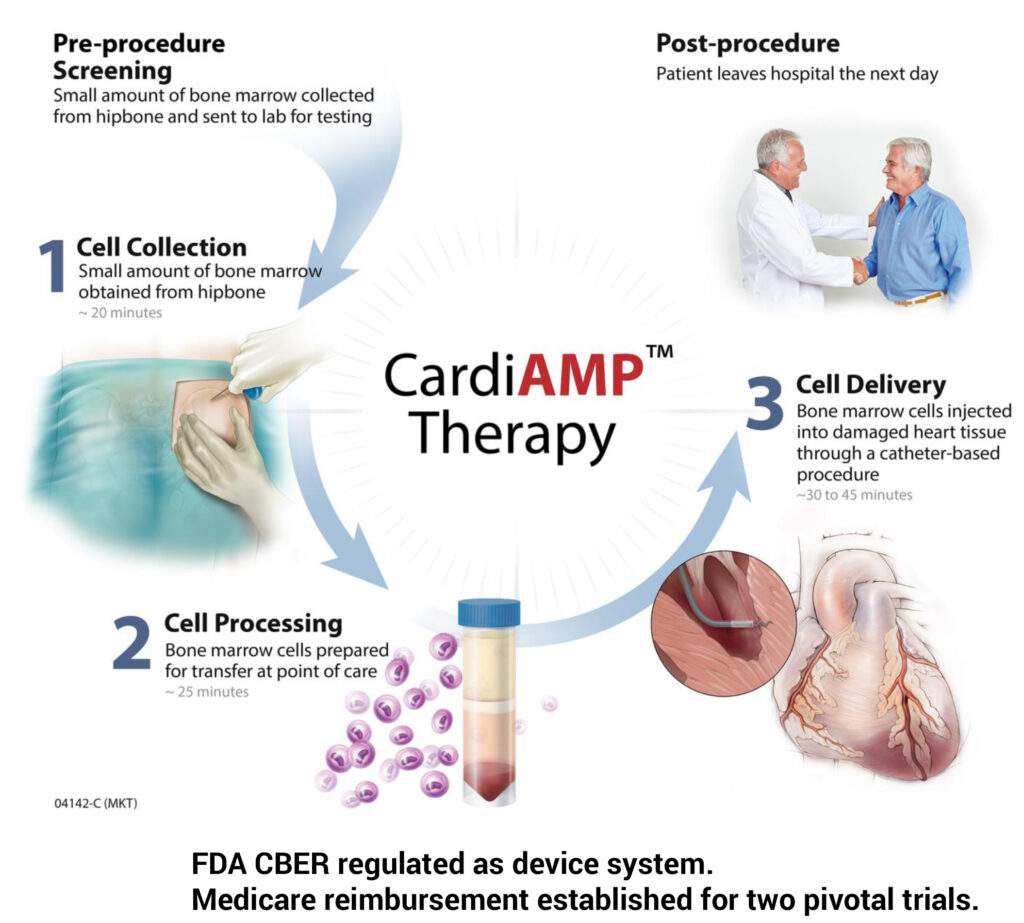 Investigational CardiAMP Cell Therapy
In addition, he says the company's CardiALLO NK1R+ mesenchymal stem cell therapy is an allogenic culture-expanded off-the-shelf cell therapy derived from universal donor bone marrow cells that have been identified to meet specified criteria. These cells would be cryo-preserved and sent to hospitals for storage.
Dr. Altman says the two CardiAMP autologous programs, BCDA-01, for ischemic heart failure, and BCDA-02, for chronic myocardial ischemia, are funded by the Center for Medicare and Medicaid Services, which reimburses hospitals for costs of patient screening and treatment, BioCardia's two investigational products and follow up.
BioCardia also has five programs in various stages of development that are partnered with biotherapeutic companies, with two in acute infarction and heart failure, and three that are undisclosed.
The company has exclusive rights to more than 65 patents and patent applications in the U.S., Europe, China, India and Japan, covering its CardiAMP and CardiALLO cell therapies, the Helix biotherapeutic delivery system and vascular access catheter products. Additional non-exclusive rights have been secured from partnering agreements.
Heart failure affects 5.7 million people in the U.S., with 50% mortality at five years and annual estimates costs expected to nearly double to $70-billion in 2030, half of which would be related to hospitalization.
Dr. Altman suggests that some 1.4 million patients with ischemic New York Heart Association class 2 and 3 classifications are believed to have potent cells for BioCardia's autologous therapy.
"Our CardiAMP platform is the first cardiac cell therapy that combines a companion diagnostic to select patients most likely to be responsive to therapy, a point-of-care cell processing platform at a patient's bedside and a transendocardial delivery system."
He explains that a small amount of bone marrow is collected from a patient's hip bone in a 20-minute procedure and sent to a lab for a biomarker panel analysis regulated by the Centers for Medicare & Medicaid Services through the Clinical Laboratory Improvement Amendments, better known as CLIA.
"About 70% of heart failure patients have been found to be responders based on the therapeutic potential of their bone marrow," he says, noting that one biomarker, CD34 cell count, has been shown to have a therapeutic benefit in clinical trials for chronic myocardial ischemia.
"Our cell potency assay has the potential to become a companion diagnostic for patient selection in heart failure, which could be the highest value diagnostic ever in medicine," Dr. Altman contends. "That's a bold statement," he admits, noting that the "adoption profile of the diagnostic will be driven by interventional cardiologists."
While the bone marrow cells are prepared for transfer in a 25-minute procedure, he says a patient is prepared for cardiac catherization, where the target dosage of bone marrow cells are injected into damaged heart tissue using the Helix delivery system in a 30-to-45-minute procedure. Patients potentially are able to leave hospital the following day.
CardiAMP is manufactured as a device procedural kit, with all individual components approved in the U.S. or Europe for other indications. "We believe that our price for this therapy will be less than the cost of goods for any other cell therapy in development and potentially give us 90% margins," Dr. Altman predicts. "This therapy would be compelling for payers, physicians and patients."
An earlier CardiAMP heart failure Phase 2 study with 33 patients met its primary safety endpoint, with no major adverse cardiac events at 30 days. At a one year follow-up, there were no deaths or major adverse cardiac events in the bone marrow cell treatment group, with clinically meaningful improvements in secondary endpoints, such as a six-minute walk and quality of life measures.
Last March, a data safety monitoring board recommended that BioCardia's Phase 3 CardiAMP heart failure trial continue based on a review of the first 74 patients enrolled in the trial.
"In the pivotal trial, if we achieve only 50% of the improvement that we saw in our Phase 2 trial, it would still be 90% powered for the primary endpoint, which is very high," Dr. Altman points out.
The ongoing pivotal heart failure trial is expected to enroll 260 patients at up to 40 centers nationwide. The trial's primary efficacy endpoint at 12-months follow-up is a composite of death, major adverse cardiovascular and cerebrovascular events, and distance of a six-minute walk to measure exercise capacity.
Secondary efficacy endpoints include quality of life, as measured by a heart failure questionnaire, and superiority relative to major adverse cardiovascular and cerebrovascular events and survival.
Last June, BioCardia activated a second pivotal trial of its investigational CardiAMP cell therapy for the treatment of chronic myocardial ischemia, which is characterized by debilitating chest pain that greatly reduces quality of life.
The study has been approved by the FDA to enroll up to 343 patients and is planned to be conducted at many of the same 40 centers involved in the company's heart failure trial. The purpose of the study is to determine the safety and efficacy of CardiAMP cell therapy in the treatment of patients with refractory angina pectoris and chronic myocardial ischemia.
The primary endpoint is total exercise time, with secondary endpoints, including major adverse cardiovascular and cerebrovascular events and survival. An adaptive statistical analysis is intended to be performed with the first 100 patients probably at the end of 2021.
"The FDA has said that the trial qualifies as a pivotal trial to produce the primary data to support market registration for the CardiAMP cell therapy for this significant unmet clinical need," Dr. Altman points out. Chronic myocardial ischemia has a reachable market potential of 200,000 patients a year in the U.S.
BioCardia also is developing an alternate ischemic heart failure therapy – CardiALLO – initially for the 30% of patients who do not meet the cell potency assay for treatment with the company's investigational CardiAMP cell therapy.
Dr. Altman says CardiALLO's allogenic NK1R+ mesenchymal stem cells are "believed to be highly potent cells that respond to the primary neuropeptide of injury, pain and inflammation in the body: substance P."
BioCardia has completed and published three preclinical trials with mesenchymal cells in heart failure models and submitted an IND to treat patients that cannot be treated with CardiAMP.
The company also has submitted an IND to advance its NK1R+ mesenchymal stem cells as a potential treatment for inflammatory respiratory disease. "The anti-inflammatory effects of mesenchymal stem cells have been well-documented, and these cells have been shown to reduce inflammation and injury in models of lung disease," Dr. Altman says.
He explains that the specific mesenchymal stem cells used in BioCardia's allogenic cell therapy are expanded from cells selected for the presence of the NK1 receptor, which is known to bind to substance P, a primary mediator of inflammation in the airways.
"We had plans to go after respiratory indications even before COVID-19 came along and we still hope to have an impact on this respiratory condition and others," Dr. Altman says.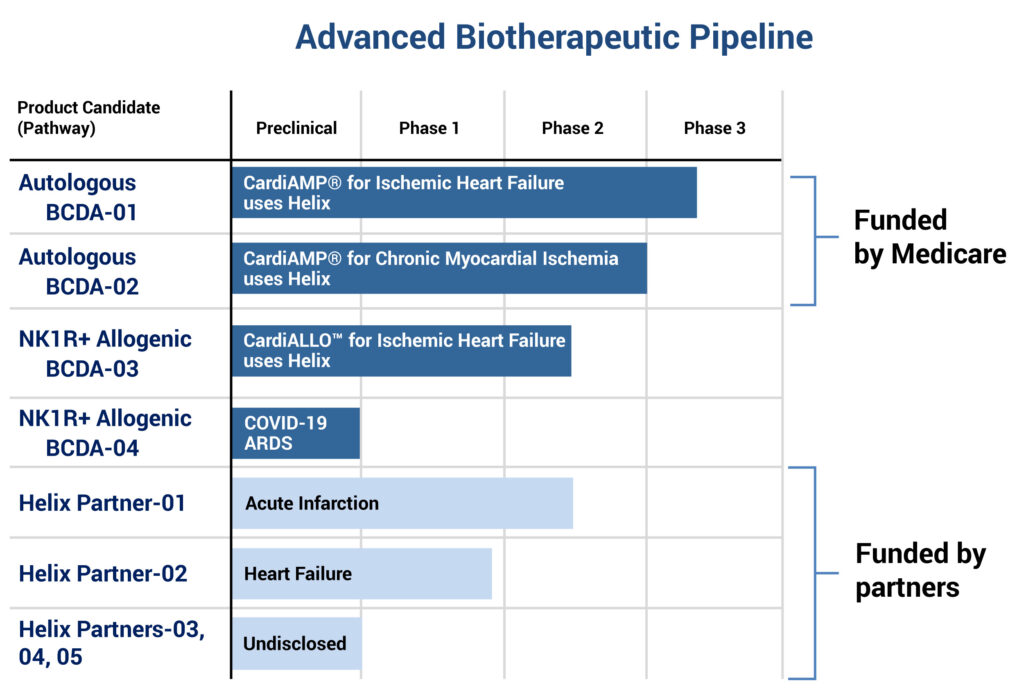 • • • • •
To connect with BioCardia or any of the other companies featured on BioTuesdays, send us an email at [email protected].