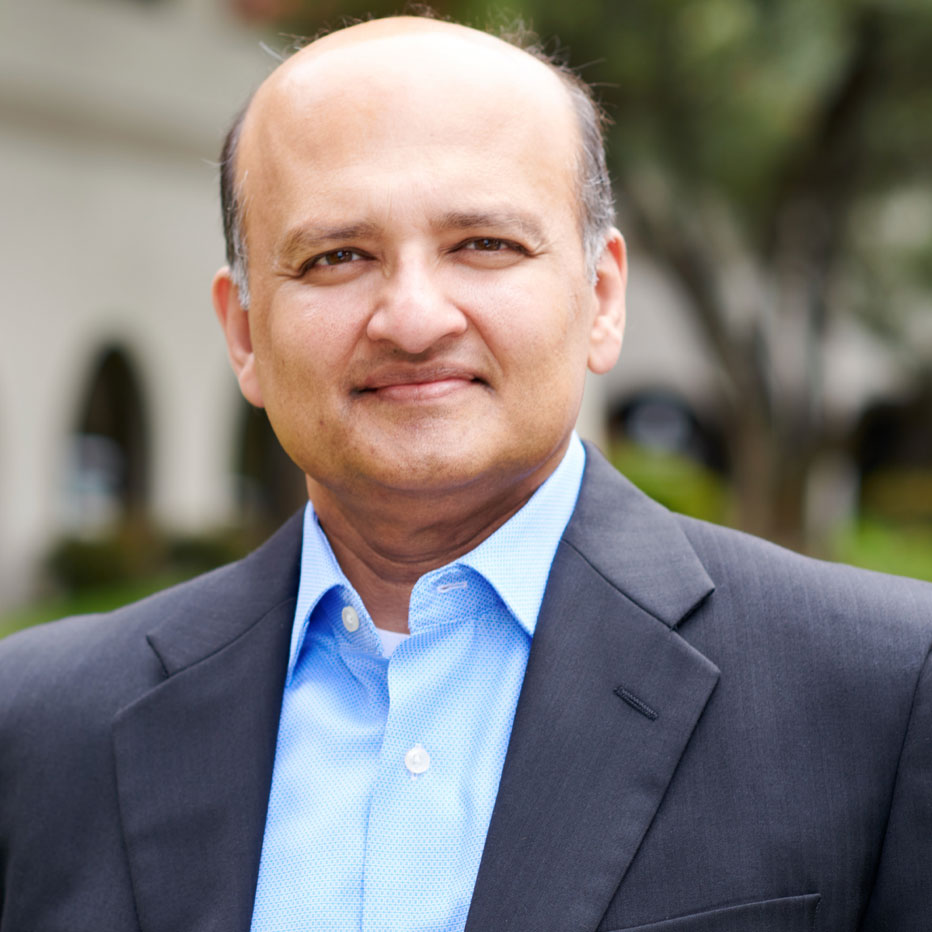 Anixa Biosciences (NASDAQ:ANIX) is taking multiple approaches to fighting cancer, developing both a diagnostic and therapeutics, such as a cancer immunotherapy and vaccine, to overcome immuno-suppression.
"Each of our three programs is taking a different approach to detect cancer early, when it's most curable, to prevent the onset of cancer, and to treat patients once diagnosed," Amit Kumar, chairman, president and CEO, says in an interview with BioTuesdays.
"In the case of our liquid biopsy, we are measuring white blood cells for early detection of prostate cancer, and possibly other solid tumors, based on the body's immune response to the presence of a malignancy and using artificial intelligence for analysis," he points out. "In CAR-T, we are engineering T-cells to make them more powerful as tumor killers, with ovarian cancer as our first indication. And in our triple negative breast cancer vaccine program, we are inducing the immune system to be ready to fight breast cancer when it develops in the hope of eliminating all breast cancers, much like a measles vaccine can eliminate measles."
Dr. Kumar and his management team repositioned Anixa as a biotech company several years ago and adopted a corporate strategy different than the traditional industry model. "Rather than a capital-intensive model, which involves expensive internal R&D, we work with academic collaborators to develop our projects, which avoids spending huge sums of money," he says.
Anixa's main collaborators include Cleveland Clinic, which is working with Anixa on its breast cancer vaccine; Moffitt Cancer Center, which is collaborating with Anixa on its chimeric antigen receptor-technology (CAR-T) program; and The Wistar Institute, where the CAR-T technology was discovered.
Dr. Kumar explains that the company's breast cancer vaccine targets the alpha-lactalbumin protein, which is expressed only in the breast and only during lactation. After a mother stops lactating, the protein disappears. Cleveland Clinic, however, discovered that the protein also is expressed in some tumor cells, especially in triple negative breast cancer, the most aggressive form of the disease, which is prevalent in patients with the BRCA1 gene mutation.
"Our aim is that once vaccinated, a patient's immune system would be ready to destroy cancer cells expressing the protein as they arise, preventing a tumor from gaining critical mass," he adds.
In a preclinical study at Cleveland Clinic with mice genetically engineered to develop breast cancer, Dr. Kumar notes that 100% of alpha-lactalbumin vaccinated mice did not develop breast cancer, while 80% to 100% of unvaccinated mice developed breast cancer. "In biology, you don't typically get a yes or no result, so we believe this is very compelling."
The company's breast cancer vaccine program has received a $6.2-million grant from the DOD to fund preclinical and Phase 1 studies. Dr. Kumar says Anixa is wrapping up its preclinical work and expects to file an IND by mid-2020 and begin a Phase 1a and 1b program with 28-to-48 patients in the third quarter.
In the Phase 1a trial, Anixa will monitor pro-inflammatory T-cell responses in triple negative breast cancer patients who have undergone standard-of-care treatment. The Phase 1b trial will study healthy women with the BRCA1 gene mutation who have elected to undergo a prophylactic mastectomy. Anixa will immunize women before surgery and monitor all of the resected breast tissue.
"If the data are as good as we hope, the DOD may fund Phase 2 development or we may entertain partnership proposals from Big Pharma," Dr. Kumar says, noting that the company would not commercialize the vaccine on its own.
Pointing to the blockbuster market potential of a preventative treatment for breast cancer, Dr. Kumar says a vaccine would be available to millions of women over the age of 40, not just those that have breast cancer. "Imagine a world where there is no breast cancer, and our healthcare system does not spend the billions of dollars finding and treating it, and millions of women and the few men affected do not have to die from this disease," he suggests.
Anixa also is developing a new type of CAR-T, known as chimeric endocrine receptor T-cell, or CER-T, based on an exclusive worldwide license from The Wistar Institute in Philadelphia, with pre-IND work being conducted at the Moffitt Cancer Center in Florida.
Dr. Kumar explains that while CAR-T therapies have made great inroads in achieving durable responses in patients with blood-borne cancers by attacking cancerous B-cells, they have a poor track record in treating solid tumors.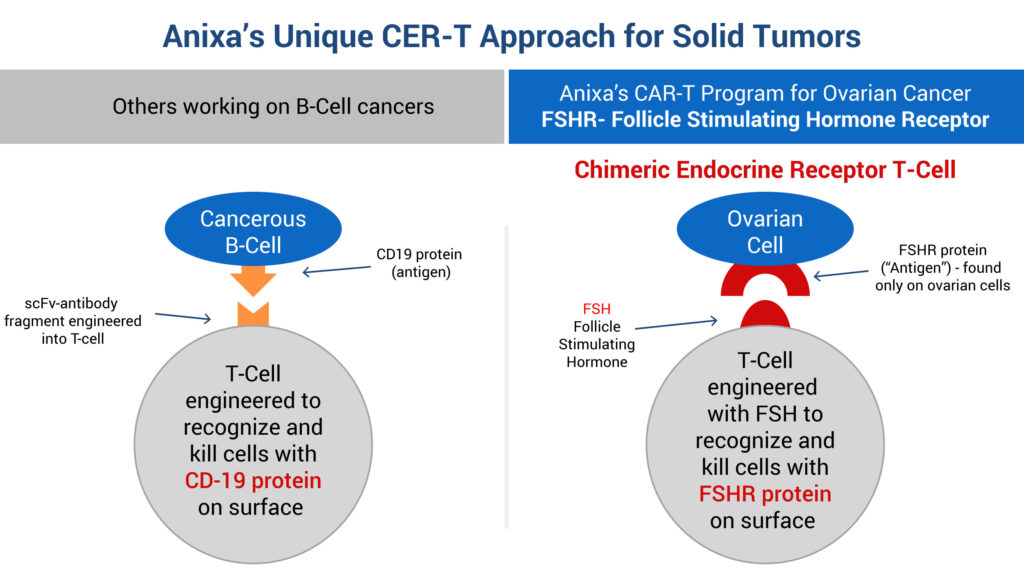 "Our preclinical work is aimed at taking a patient's T-cells, which already are trying to attack a tumor, and genetically engineer them with follicle stimulating hormone to recognize and kill cells with a follicle stimulating hormone receptor (FSHR) on their surface," he adds. "These receptors are found only on ovarian and testicular cells."
According to Dr. Kumar, data now has shown that FSHR also shows up on blood vessels of many solid tumors. "This characteristic, we believe, has the potential to open the door to our FSHR-targeted therapy to destroy tumor vasculature and starve or shrink tumors as the first anti-angiogenic CAR-T therapy."
Last month, Anixa and the Moffitt Center completed and validated the reformulation of the viral vector necessary for its CAR-T program. The new viral formulation is now being manufactured and is expected to take about three months to complete. Anixa and Moffitt remain on track to file an IND application by the end of 2020 and begin a clinical trial in 2021, Dr. Kumar says.
In its cancer diagnostic program, Anixa is developing a blood test, known as Cchek, to determine a patient's cancer status from a simple blood draw without subjecting a patient to a biopsy.
"Existing approaches measure circulating tumor cells, exosomes and DNA, for example, but these approaches tend to be very expensive and require the tumor to be large enough to shed these biomarkers into the blood stream," Dr. Kumar contends.
Anixa's Cchek, on the other hand, measures white blood cells to determine if a patient is tumor-bearing. "We are letting the immune system amplify and signal to us the presence of a tumor, just like it signals the presence of an infection," he adds. "We combine flow cytometry and artificial intelligence to perform the analysis."
Dr. Kumar explains that the company feeds healthy and malignant patient samples into a neural network to determine mathematically the difference between a malignancy or normal sample. "This also trains the neural network," he adds.
In the fourth quarter of 2019, Anixa launched a Cchek prostate cancer confirmation diagnostic to be used after a high PSA reading but before a prostate biopsy, which is expensive and comes with risks of side-effects. There are some 1.5 million prostate biopsies performed annually in the U.S., with about 90% of them negative, which indicates a man does not have prostate cancer. However, PSA tests are considered to be a poor indicator of cancer, leading to the high number of biopsies.
"We believe that Cchek can distinguish between cancer and other benign conditions, such as benign prostatic hyperplasia, and could eliminate nearly half of all unnecessary biopsies," Dr. Kumar contends. The test has a rapid turnaround time and costs less than $100.
Anixa currently is performing an external validation study of its prostate cancer confirmation diagnostic with key opinion leaders and reimbursement providers. "Our plan is then to partner with a large national laboratory company that has a sales force, distribution and marketing infrastructure," Dr. Kumar adds.
Therapeutic Pipeline

Diagnostic Pipeline

• • • • •
To connect with Anixa or any of the other companies featured on BioTuesdays, send us an email at [email protected].