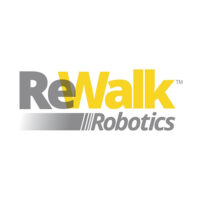 H.C. Wainwright lowered its price target for ReWalk Robotics (NASDAQ:RWLK) to $3.50 from $9, reflecting dilution from a recent public offering. The stock closed at 81 cents on Feb. 20.
As a result of the financing, the company currently has pro forma cash of $22.4-million, which "we believe is sufficient to fund operations through the first quarter of 2021," writes analyst Swayampakula Ramakanth.
The company's wearable robotic exoskeleton, ReWalk, enable individuals with spinal cord injury to stand upright, walk, turn, and climb and descend stairs. ReWalk is the first exoskeleton to receive FDA clearance for personal and rehabilitation use in the U.S.
Mr. Ramakanth said that in 2019, ReWalk placed 54 devices, compared with 85 in 2018. The decrease was partially due to lower number of units placed with VA in 2019 as a study comparing ReWalk in home use with standard-of-care wheelchair use, neared completion.
"We believe placement of ReWalk units could rebound in 2020 due to improving reimbursement in Germany," he said. In the fourth quarter, five German payers finalized contracts to establish implementation procedures for coverage of spinal cord injury exoskeletons, he added.
Mr. Ramakanth said that according to ReWalk, there are currently 46 pending cases associated with these payers, and "we expect a majority of them to convert to sales in 2020."
In addition, he said completion of VA study and potential assignment of Healthcare Common Procedure Coding System code in the U.S. could further help adoption in 2020.