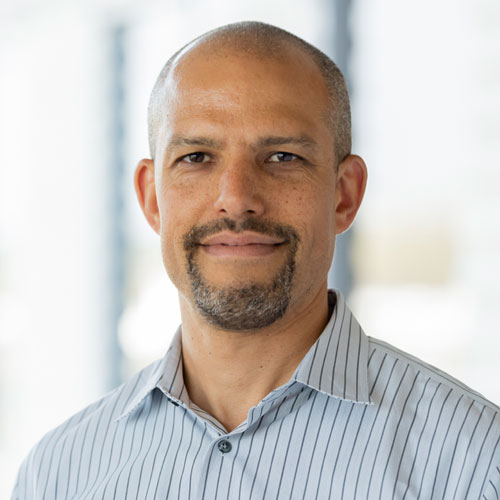 Using its unique ATLAS proprietary technology platform, Genocea Biosciences (NASDAQ:GNCA) is developing cancer immunotherapies that direct the body's own tumor-fighting T-cells to the most therapeutically relevant cancer targets, or antigens, by identifying the targets that matter most.
"For years, innovation in cancer immunotherapies has focused on cancer vaccine delivery systems while overlooking antigen selection," Chip Clark, president and CEO, says in an interview with BioTuesdays. "The process of including the right antigens is a critical and much needed step in setting up cancer vaccines and cell therapies for success."
Mr. Clark explains that ATLAS is a powerful and proprietary platform that profiles both the patient's tumor and the immune responses the patient makes to that tumor. "And because it finds the tumor antigens to which the patient's immune system can mount anti-tumor responses, ATLAS enables therapies that do just that. The right targets ensure greater relevance to the patient," he states.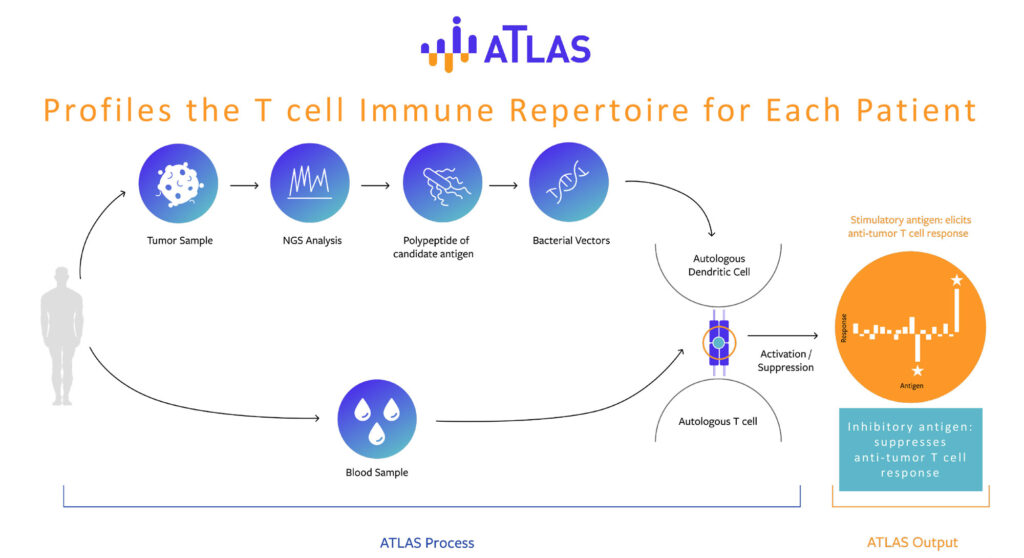 At the end of 2019, Genocea presented preclinical data that revealed vaccines
containing certain inhibitory neoantigens – what it calls inhibigens – can accelerate tumor growth. ATLAS was able to identify these neoantigens, which were found to reverse the efficacy of a protective therapy or vaccine, even if it also contains stimulatory neoantigens.
"Failure to focus immune responses on the right antigens, and/or focusing on inhibigens, may help to explain the failure of immune checkpoint inhibitors, neoantigen vaccines and cell therapies in certain patients," he suggests.
"Our results are a powerful validation of novel inhibitory neoantigen, or inhibigen, biology and reveal another facet of the strengths of ATLAS," Mr. Clark says. "Using ATLAS to include the therapeutically relevant antigens and to exclude inhibigens should enable more immunogenic and clinically effective immunotherapies."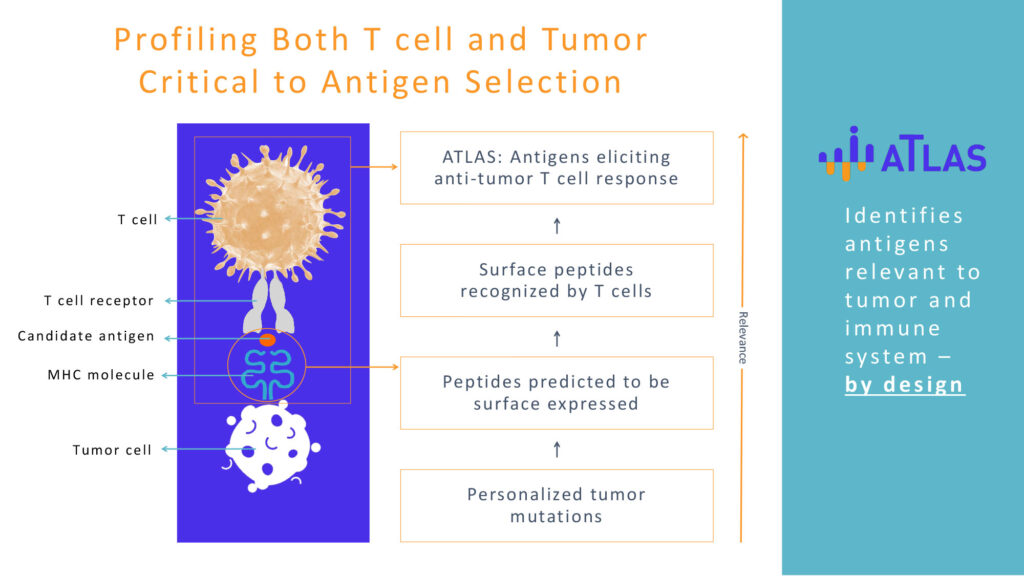 In addition to inhibigens, the company has identified "shared neoantigens" that are common to multiple patients, which could pave the way to more successful clinical development of personalized vaccines and therapies.
And, using ATLAS, Genocea has culled that list to eliminate shared neoantigens that are actually inhibigens in some or all patients. "We are leading the next wave of immunotherapies for more cancer-free patients," Mr. Clark contends.
Genocea has two lead products: GEN-009, a neoantigen vaccine, and GEN-011, a neoantigen T-cell therapy. The company also is developing a follow-on neoantigen cancer vaccine.
In part A of an ongoing Phase 1/2a trial, the company unveiled immunogenicity data generated by GEN-009 that supports its contention that ATLAS has the potential to be different and better.
"GEN-009 generated immune responses from both CD4+ and CD8+ T-cells to 99% of all immunized peptides, which is unprecedented for neoantigen vaccination," Mr. Clark says. "Such a broad response may help the immune system to overwhelm the tumor, so it doesn't have a chance to mutate and evade the body's response."
The study's findings, first presented at the ASCO conference in 2019, were selected by ASCO as a Top 10 immuno-oncology abstract.
In part B of the Phase 1/2a study, GEN-009 is being studied in combination with immune checkpoint inhibitors in patients with advanced melanoma, non-small cell lung cancer, squamous cell carcinoma of the head and neck, and bladder and kidney cancers. The vaccine is administered after a response to checkpoint inhibitors has been determined. The objectives of the study are safety, immunogenicity and initial efficacy three months post-vaccination. Genocea hopes to report an interim readout in mid-2020.
According to Mr. Clark, neoantigen cell therapies, such as tumor-infiltrating lymphocyte (TIL) therapy, have demonstrated efficacy in some late-stage cancer patients. "GEN-011 has the potential to improve upon even this effective modality by harnessing ATLAS," he contends.
Rather than simply growing and re-infusing TILs, he says Genocea will use ATLAS to identify an anti-tumor T-cell response and then grow only those T-cells, while excluding those to inhibigens. By doing so, and by using T-cells taken from a patient's peripheral blood rather than the tumor, Genocea aims to develop a neoantigen-specific cell therapy that is more potent and easier to make than other T-cell therapies, he suggests.
"Using a patient's own non-engineered T-cells could address a range of tumor types, improve on safety, and the speed and cost of manufacturing," Mr. Clark adds.
Genocea intends to file an IND for GEN-011 in the second quarter of 2020, with a preliminary clinical readout in the first half of 2021.
"2020 is shaping up as an exciting time for us as we continue to exploit ATLAS for valuable insights that help inform cancer vaccine development and progress our two lead candidates further into the clinic," Mr. Clark says.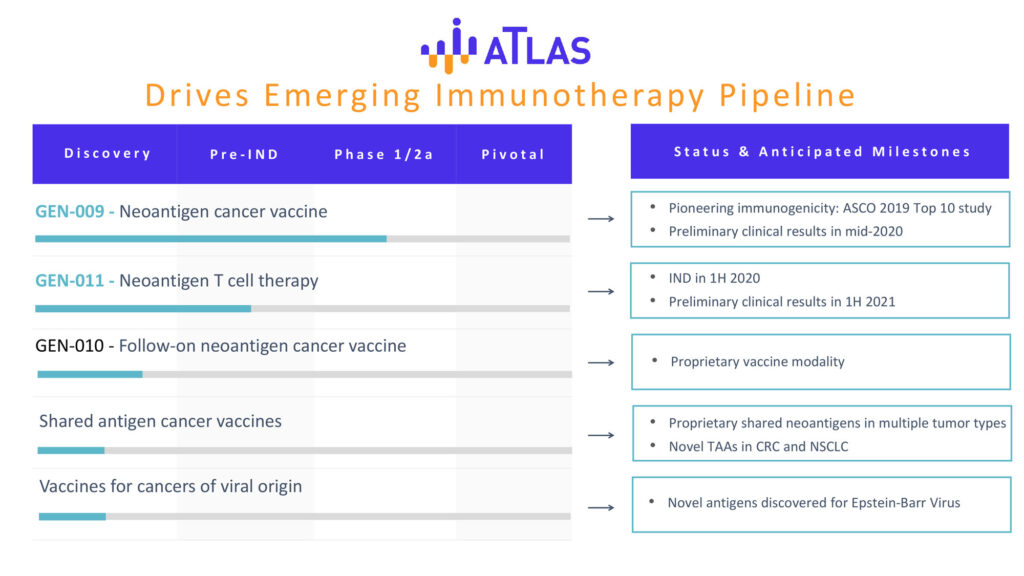 • • • • •
To connect with Genocea or any of the other companies featured on BioTuesdays, send us an email at [email protected].