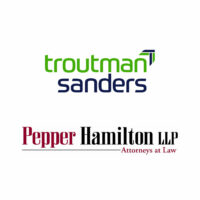 Troutman Sanders and Pepper Hamilton agreed to merge, effective on April 1, creating a new 1,100-lawyer giant with offices in 23 locations, including eight of the 10 top U.S. markets. The new firm will be known as Troutman Pepper Hamilton Sanders.
Each firm brings a breadth and depth of experience serving clients in a multitude of areas as well as a complementary industry sector focus, spanning most of the industries critical to the U.S. economy. Key practices include corporate, litigation, intellectual property, construction, tax, and white collar, among others.
Troutman's practice strengths include energy, real estate, financial services and insurance, while Pepper's strengths cover health science and private equity practices.
Troutman, which was No. 68 on the 2019 Am Law 100 with revenue of $521.5-million, has about 650 lawyers in 12 U.S. offices. Pepper Hamilton, which was No. 105 on the 2019 Am Law 200, has about 450 lawyers in 14 offices and reported gross revenue of $334-million last year.