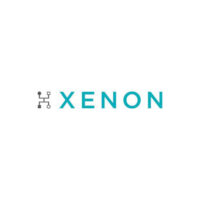 William Blair initiated coverage of Xenon Pharmaceuticals (NASDAQ:XENE) with an "outperform" rating and estimated fair value of $27. The stock closed at $13.49 on Jan. 7.
Xenon is focused on the development of selective voltage-gated ion channel modulators for orphan pediatric epileptic encephalopathies (EEs) and adult partial-onset seizures, led by XEN496, which is positioned for targeted treatment of KCNQ2-EE, a rare pediatric EE with immediate seizure onset from birth.
The active ingredient of XEN496 is ezogabine, a potassium channel opener, which was previously marketed as Potiga by GlaxoSmithKline for partial-onset seizures. "Alongside case and retrospective studies supporting ezogabine efficacy in KCNQ2-EE, we hold conviction in XEN496 conferring seizure control as the compound is expected to enter a Phase 3 trial after IND clearance in the first quarter of 2020," writes analyst Tim Lugo.
Xenon also is developing XEN1101, a once-daily oral potassium channel opener that may avoid the benign skin and eye discoloration adverse effects and be more effective at lower doses than Potiga, which was discontinued due to low demand in the general epilepsy market, Mr. Lugo added.
An ongoing Phase 2b trial in adults experiencing partial-onset seizures is underway and expected to read out in the second half of 2020. The company also has licensed XEN901 for the treatment of SCN8A-EE to Neurocrine Biosciences.
"With what we believe is a significantly differentiated selective voltage-gated ion channel modulator platform, de-risked mechanisms of action for generalized anti-epileptic drugs and a targeted therapy approach for pediatric EEs, we see Xenon positioned as a potential market leader in the treatment of pediatric EEs and a large player in the broader epilepsy landscape," Mr. Lugo said.