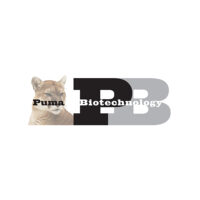 H.C. Wainwright launched coverage of Puma Biotechnology (NASDAQ:PBYI) with a "buy" rating and $15 price target. The stock closed at $7.44 on Dec. 5.
Puma has a marketed drug called Nerlynx, which was approved by the FDA in July 2017 and the European Medicines Agency in September 2018 for extended adjuvant treatment of adult patients with early-stage HER2+ breast cancer, following adjuvant Herceptin-based therapy. Approximately 28,300 early-stage HER2+ breast cancer patients in the U.S. and about 37,000 in the EU receive adjuvant treatment annually.
"Sales have been disappointing as patients' duration on the drug has been stunted by early discontinuations due to the incidence of Grade 3 diarrhea," writes analyst Edward White.
In an effort to expand the label and commercial markets, he said Nerlynx is also being evaluated by the company for metastatic HER2+ breast cancer, with an NDA already submitted; metastatic HER2+ breast cancer with brain metastases; HER2-mutant breast cancer; and solid tumors.
In addition, the company signed several licensing deals in 2019 to market Nerlynx outside the U.S., which should have a positive impact on the bottom line, Mr. White added.
One notable partner, closely-held Pierre Fabre, is expected to launch Nerlynx in Germany, the UK and Austria in the fourth quarter of 2019. A launch in the rest of Europe is expected to take place from 2020 to 2022.
Puma also has partnerships for Greater China, Canada, Israel, Latin and South America, Australia, and South East Asia. "Puma has significant opportunity for revenue growth that drops to the bottom line due to these strategic agreements," Mr. White said.