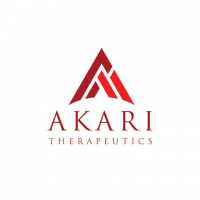 Akari Therapeutics (NASDAQ:AKTX) reported new data from an ongoing, long-term Phase 2 study of nomacopan for the treatment of paroxysmal nocturnal hemoglobinuria (PNH).
In PNH, the complement system destroys red blood cells in both the circulatory – or intravascular system – and extravascular systems such as the liver or spleen, leading to anemia. Nomacopan is a small protein complement inhibitor.
All six patients in the Phase 2 study were transfusion dependent at entry and are now transfusion independent on nomacopan, having not had transfusions for a minimum of six months. There have been no reported drug-related serious adverse events.
In addition, the company reported the design of its Phase 3 trial of nomacopan for the treatment of hematopoietic stem cell transplant associated thrombotic microangiopathy (HSCT-TMA) in pediatric patients. Akari plans to begin this trial by the end of 2019.
"Following our meeting with the FDA, we look forward to starting the pivotal Phase 3 study of nomacopan in HSCT-TMA, a potential treatment for a high risk pediatric population which currently has no approved therapies," CEO Clive Richardson said in a statement.