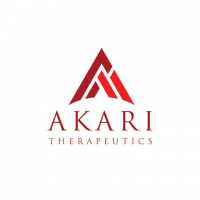 Akari Therapeutics (NASDAQ:AKTX) received FDA orphan drug designation for nomacopan for the treatment of bullous pemphigoid (BP). 
BP is a severe orphan inflammatory skin disease characterized by chronic blistering of the skin. It is currently treated with steroids and immunosuppressants, but relapses frequently occur.
Last month, nomacopan received FDA orphan drug and fast track designations for the treatment of hematopoietic stem cell transplant associated thrombotic microangiopathy in pediatric patients.
"Orphan drug designation for nomacopan is a major step forward for the program, positioning nomacopan for eligibility for an additional seven years of marketing exclusivity in BP if nomacopan is approved by the FDA," Clive Richardson, Akari's CEO, said in a statement.
Akari plans to release new nomacopan safety and efficacy data from an ongoing Phase 2 trial in BP patients in the fourth quarter of 2019.