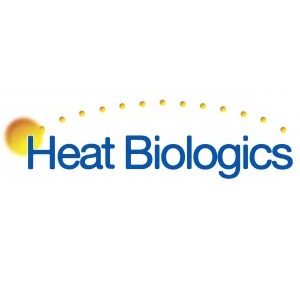 Brookline Capital Markets launched coverage of Heat Biologics (NASDAQ:HTBX) with a "buy" rating and $8 price target. The stock closed at 52 cents on July 29.
Heat Biologics has cell-therapy platforms called ImPACT and ComPACT, and co-stimulator PTX-35 for boosting CD8+ T-cell activity against cancers by providing cancer antigen-specific activation and co-stimulation.
ImPACT is a vaccine approach for boosting immune activity to fight cancers. HS-110, an ImPACT candidate, is in a Phase 2 trial in non-small cell lung cancer and has shown activity in turning the treated cancers "hot" or more vulnerable for immune recognition, writes analyst Kumaraguru Raja.
"In combination with checkpoint inhibitor like nivolumab, HS-110 can result in a greater tumor response to checkpoint inhibition," he added.
PTX-35 is a monoclonal antibody agonist utilizing the CD8+ killer T-cell specific pathway. This program is supported by a $15.2-million grant from the Cancer Prevention and Research Institute of Texas. Mr. Raja said a 70-patient first-in-human Phase 1 clinical trial is expected to begin in the fourth quarter of 2019, following an expected IND filing in the third quarter.
ComPACT is in preclinical development and is designed to enhance T-cell activation. A trial with candidate HS-130 is expected to begin in the third quarter of 2019, with interim data potentially in the first quarter of 2020, Mr. Raja added.