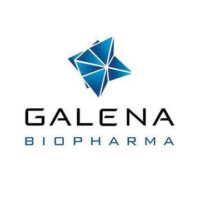 Maxim Group downgraded Galena Biopharma (NASDAQ:GALE) to "hold" from "buy" and removed its price target after the departure of Galena CEO, Dr. Mark Schwartz. The stock was quoted at $1.11 at midday Feb. 2.
The Galena board also announced that it will engage an independent advisory firm to evaluate the company and determine the best strategic path forward, including sale of the company, a merger or reverse merger, or remain a stand-alone entity. Galena had $24.5-million in cash at the end of the third quarter.
"Given the uncertainty around the path forward, we believe it is prudent to downgrade the shares," writes analyst Jason McCarthy.
He said operating expenses for 2017 have been reduced as the Phase 3 trial of GALE-401 will not initiate (for now) and the investigator-sponsored studies of NeuVax have only minor costs associated with them.
"From a clinical perspective, we believe that NeuVax and GALE-401 have potential in breast cancer and essential thrombocythemia, respectively," he added. "However, from a corporate perspective, the uncertainty about the company's future and no visibility on timing around resolution of these issues, we believe it is prudent to downgrade the shares."