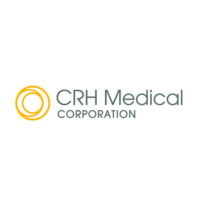 RBC Capital Markets initiated coverage of CRH Medical (NYSE MKT:CRHM; TSX:CRH) with an "outperform" rating and price target of $6.50 (Canadian). The stock closed at $5.50 on Wednesday.
Analyst Doug Miehm writes that CRH has leveraged its long-standing GI physician relationships and expertise to acquire anesthesiology service businesses in the GI space.
"Through a combination of modest organic growth and strong free cash flow generation, we believe CRH will post outsized returns over the next 12 months," he added.
Mr. Miehm said there are several GI-anesthesiology growth drivers, including an aging population; CMS clarification of diagnostic colonoscopy insurance, improving coverage; and increasing utilization of anaesthesia in endoscopic procedures.
"To our knowledge, there are no anaesthesia management companies, aside from CRH, that focus exclusively on the GI-ASC subsector," he said, adding that sources suggest GI-focused ASCs account for about 20% of the approximately 5,500 ASC market, indicating there are about 900-to-1,050 GI-focused centers.
"As CRH has acquired 10 anesthesiology groups to date, servicing 18 GI-ASCs, we estimate that CRH-AM services about 2% to 3% of the GI-ASC market," he added. "We therefore believe there remains significant opportunity for CRH to further consolidate part of this market."