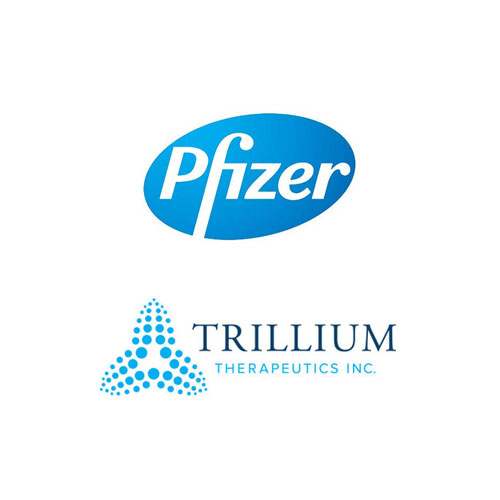 Pfizer (NYSE:PFE) entered into a definitive agreement to acquire Trillium Therapeutics (NASDAQ, TSX:TRIL), a clinical-stage immuno-oncology company developing innovative therapies for the treatment of cancer.
Under the accord, Pfizer will acquire all the outstanding shares of Trillium not it doesn't already own for an implied equity value of $2.26-billion, or $18.50 a share. Trillium closed at $17.59, up $11.50, on Aug. 23.

Trillium's portfolio includes biologics that are designed to enhance the ability of patients' innate immune system to detect and destroy cancer cells.
Its two lead molecules, TTI-622 and TTI-621, block the signal-regulatory protein alpha (SIRPa)–CD47 axis, which is emerging as a key immune checkpoint in hematological malignancies. TTI-622 and TTI-621 are potentially best-in-class SIRPLP-Fc fusion proteins that are currently in Phase 1b/2 development across several indications, with a focus on hematological malignancies.

"Trillium has the only known SIRPα–CD47 targeting molecules with clinically meaningful monotherapy responses as well as a strong basis for combination therapies, which is supported by preclinical evidence with a diverse set of therapeutic agents," Dr. Jan Skvarka, CEO of Trillium, said in a statement.
In clinical studies to-date, TTI-622 and TTI-621 have demonstrated activity as monotherapy in relapsed or refractory lymphoid malignancies, including Diffuse Large B-cell Lymphoma, Peripheral T-cell lymphoma, Follicular Lymphoma and other lymphoid malignancies.
As of July 26, 2021, Phase 1 data for TTI-622 in 30 response-evaluable patients have shown deep and durable responses in heavily pretreated patients, including two complete responses, one lasting over 114 weeks, with responses ongoing.
"We are encouraged by the early clinical data for TTI-622 and TTI-621 monotherapy for patients with heavily pretreated lymphoid malignancies and early encouraging activity for TTI-622 in patients with multiple myeloma," said Chris Boshoff, M.D., Ph.D., chief development officer, Oncology, Pfizer Global Product Development.
"Just as PD-1 and PD-L1 blockers have proven to be effective immuno-therapeutics for many solid tumors, the SIRPα-CD47 interaction defines a second key immune checkpoint for which disrupting agents are expected to become another important backbone immunotherapy for multiple types of cancer, especially hematological cancers," he added.