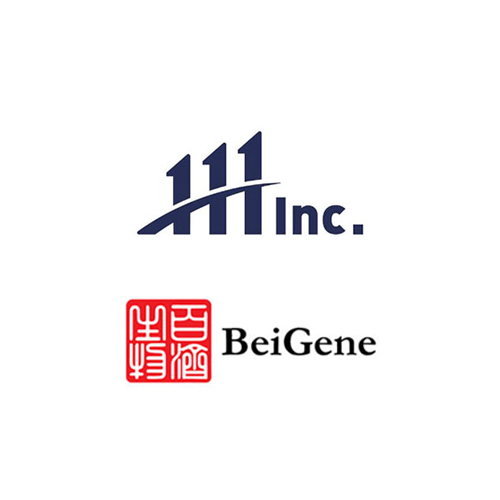 111, Inc. (NASDAQ:YI), a leading digital healthcare platform in China, entered into a strategic cooperation agreement with BeiGene (NASDAQ:BGNE; HKEX:06160), a commercial-stage and development biotechnology company.
BeiGene currently markets two internally discovered oncology medicines in China: BRUKINSA, a BTK inhibitor, and tislelizumab, an anti-PD-1 antibody. It also markets or plans to market in China additional oncology products licensed from Amgen; Celgene Logistics Sàrl, a Bristol Myers Squibb company; and EUSA Pharma.
The two companies will cooperate around an "internet plus medicine and healthcare" model, leveraging 111's Internet hospital, smart supply chain network, data-driven artificial intelligences solutions, such as digital advertising, and online and offline direct-to-patient delivery of medicines to create a unique oncology management platform.
The platform also will empower doctors to improve the efficiency of patient management, especially for patients outside of the hospital, and will not only extend their service cycles, but also expand their service radius, providing patients with a digital, one-stop service for medical care and medicine, and improving the accessibility of BeiGene's innovative oncology drugs.
In a statement, Dr. Wu Xiaobin, president of BeiGene, said the Internet-plus model will be a catalyst for driving innovation in oncology. "By leveraging the power of the Internet, BeiGene will be able to bring its innovative drugs and services to more patients nationwide."
Ms. Wu Qingyi, chief commercial officer of BeiGene Greater China, said that in order to further promote the commercialization of innovative oncology drugs, "we hope to use 111's industry leading technology and digital service to establish the 'last mile' delivery of oncology disease medical services in China.
Dr. Yu Gang, Ph.D., co-founder and executive chairman of 111, said that in the era of digital healthcare services, and through the empowerment of the Internet, pharmaceutical companies can now deliver "patient-centered" care by prioritizing the needs of the patients.
With the Internet's ability to transcend the boundaries of time and geography, Dr. Gang said it can help doctors establish integrated online and offline disease management services throughout the patient care continuum – from diagnosis to treatment to post-treatment follow-up care.
"We are confident that, by relying on our comprehensive digital medical care plus medicine platform, 111 can help expand the commercial reach of BeiGene's innovative oncology drugs as well as advance the adaption of innovative medical service models in China," Dr. Gang added.
111's strategically located, technology-driven fulfillment centers currently serve more than 300,000 pharmacies in China that comprise its online and offline integrated virtual pharmacy network, empowering the company's ability to offer 24-hour delivery in most major cities and 72-hour delivery nationwide.
According to data from the International Agency for Research on Cancer of the WHO, there were 4.6 million new cases of cancer diagnosed in China in 2020, accounting for 23.7% of the world's total cases. There were three million cancer deaths in the country, accounting for 30% of the world's total.
The companies said that the current challenge in the treatment of cancer in China lies not only in the availability of safe and efficacious drugs, but also in the fact that a large number of cancer patients in the country face the unfortunate situation of needing to seek both immediate medical treatment and long-term follow-up care outside of their local communities.