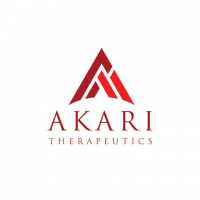 Akari Therapeutics (NASDAQ:AKTX) received FDA orphan drug designation for nomacopan for the treatment of hematopoietic stem cell transplant associated thrombotic microangiopathy (HSCT-TMA) in pediatric patients.
HSCT-TMA is an orphan condition that occurs when blot clots form following a stem cell transplant. HSCT-TMA has a fatality rate of more than 80% in children, and has no approved therapies.
Nomacopan received FDA fast track designation for HSCT-TMA earlier this month.
"We look forward to taking advantage of the opportunities that FDA orphan drug designation and fast track designation provide across all stages of drug development in order to bring this potential new treatment option to patients as rapidly as possible," Clive Richardson, Akari's CEO, said in a statement.
Akari plans to commence a pivotal trial in the fourth quarter of 2019.