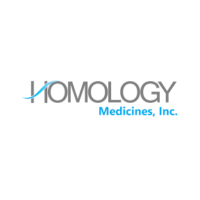 BTIG initiated coverage of Homology Medicines (NASDAQ:FIXX) with a "buy" rating and $35 price target. The stock closed at $19.90 on April 23.
Founded in 2015, Homology is a genetic medicine company that is focused on transforming the lives of patients with rare genetic diseases by "materially altering, even curing, the underlying cause of the disease," writes analyst Robert Hazlett.
He said Homology's proprietary platform utilizes the recent discovery of hematopoietic stem cell-derived adeno-associated virus vectors (AAVHSCs), which precisely and efficiently deliver genetic medicines.
The unique and beneficial properties of its 15 novel AAVHSCs enable the precise replacement of an entire diseased gene in the genome with a whole functional copy, or the precise repair of individual mutated nucleotides, by harnessing the highly effective and efficient naturally occurring DNA repair process called homologous recombination (HR), he added.
Mr. Hazlett said said Homology's HR-driven approach minimizes unwanted on- and off-target modifications, and avoids the need for bacteria-derived enzymes called, nucleases, which are employed in other gene editing approaches to cut DNA and significantly increase the risk of unwanted modifications.
Novartis inked a deal with Homology in November 2017, covering ophthalmic and sickle cell diseases, for $50-million upfront; $960-million in development, regulatory, and commercial milestones; and royalties to the low double-digits.
Homology's first shot on goal is phenylketonuria (PKU), an inherited disorder that increases the levels of a substance called phenylalanine in the blood and causes severe intellectual disability and seizure.
Current PKU treatments are ineffective, and Homology is developing HMI-102, a gene therapy for adults, that should have an IND in late 2018, with peak revenue potential of more than $1-billion, and a gene-editing program for pediatrics, Mr. Hazlett said.
The company also is pursuing monogenic CNS, lung, liver, bone marrow, and eye diseases.