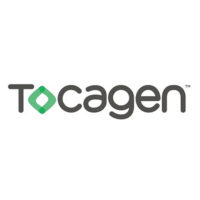 Analysts at Stifel and Leerink initiated coverage of Tocagen (NASDAQ:TOCA) with "buy" and "market perform" ratings, and price targets of $24 and $19, respectively. The stock closed at $17.40 on May 5.
Tocagen is developing a TOCA-511 + TOCA-FC combination for the treatment of recurrent high-grade glioma (HGG), of which glioblastoma is the most aggressive sub form, with an eye toward expanding the approach to front-line HGG and then to other solid tumors.
Stifel analyst Thomas Shrader writes that the fundamental approach involves infecting tumor cells with an engineered virus (TOCA-511) that converts an inactive precursor (TOCA-FC) into the powerful chemotherapy, 5-FU.
"By activating the chemotherapy locally, 100-fold higher 5-FU levels are generated where it is needed while greatly reducing systemic exposure and toxicity," he added.
Mr. Shrader said data to date in relapsed HGG are intriguing, "with most treated patients living longer than historical expectations and about 25% of patients experiencing profound responses lasting years and possibly representing cure."
In addition, he said the company has solid preclinical data suggesting frontline HGG patients and those with solid tumors susceptible to 5-FU (colorectal and others) may also benefit from this novel approach.
Analyst Michael Schmidt of Leerink agreed, saying the company's lead product has generated promising early clinical results to date that suggest potential anti-cancer activity in difficult-to- treat high-grade glioma.
"That said, key de-risking randomized-controlled clinical results are still outstanding and glioma has been a notoriously difficult indication for drug development," he added.
"While we're positive on the huge potential of the technology and the market opportunity for TOCA-511 and TOCA-FC in malignant glioma, we believe Tocagen shares, up 74% since the IPO, are currently fairly valued, balancing risk and reward," Mr. Schmidt said.