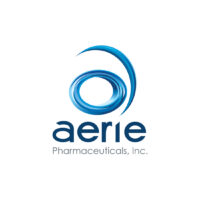 Stifel raised it price target for Aerie Pharmaceuticals (NASDAQ:AERI) to $50 from $40 after the company's Roclatan eye drop hit all its endpoints with clinically meaningful results in a Phase 3 trial. The stock closed at $21.13 on Wednesday.
Analyst Annabel Samimy writes that the 90-day primary efficacy readout of the MERCURY-1 trial demonstrated statistically significant lowering of intraocular pressure (IOP) of Roclatan over its Rhopressa and latanoprost components.
Roclatan is a once-daily eye drop that combines Aerie's Rhopressa eye drop with latanoprost, the most widely prescribed glaucoma drug in the world. Rhopressa also is a once daily, triple-action eye drop being tested for its ability to lower IOP in patients with glaucoma or ocular hypertension.
Ms. Samimy said the latest results position Roclatan as the most efficacious IOP-lowering agent to date.
"We believe this clean readout of data goes far to de-risk the Roclatan/MERCURY program and we have confidence for consistent readouts at 12-months and for MERCURY-2," she added.
Ms. Samimy said Aerie expects to readout 12-month safety and efficacy data from MERCURY-1 in the third quarter of 2017, with MERCURY-2 slated for a readout of 90-day efficacy in the first half next year, culminating in an NDA filing by the end of 2017.
In addition, she said the MERCURY-3 trial in the EU is expected to begin in the first half of 2017 and is designed to be a head-to-head study against a EU combination product now on the market.
On Rhopressa, she expects readout in the fourth quarter this year of ROCKET-4 (3-month efficacy) and PDUFA date in the second half of 2017.