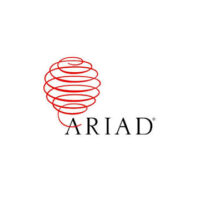 ARIAD Pharmaceuticals (NASDAQ:ARIA) has reported updated clinical data for brigatinib, its investigational anaplastic lymphoma kinase (ALK) inhibitor, from the pivotal ALTA trial in patients who had experienced disease progression on crizotinib therapy.
The data show that, of patients on the 180 mg regimen (Arm B) with a median follow-up of 8.3 months, 54% achieved a confirmed objective response, the trial's primary endpoint. In this arm, the median progression free survival exceeded one year (12.9 months) in this post-crizotinib setting.
In addition, a 67% confirmed intracranial objective response rate was achieved in patients with measurable brain metastases.
These data will be presented today, for the first time, at the ASCO annual meeting, reflecting an additional 12 weeks of patient follow up and new data on CNS activity, compared with an abstract released last month.
"Most patients with ALK-positive non-small cell lung cancer who are treated with crizotinib eventually experience disease progression, often due to acquired ALK resistance mutations or metastases in the central nervous system," presenting author, Dr. Dong-Wan Kim, head of the Cancer Clinical Trials Center at the Seoul National University Hospital in Korea, said in a statement.
"For these patients, we are very excited by the brigatinib ALTA trial data, which showed compelling efficacy and safety data, including complete responses and activity in the CNS," he added.