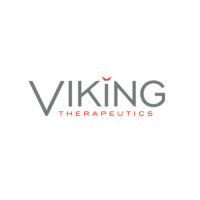 Viking Therapeutics (NASDAQ:VKTX) has submitted an IND application to the FDA to conduct a Phase 2 study of VK2809 in patients with hypercholesterolemia and fatty liver disease.
Viking expects to initiate the Phase 2 clinical trial by the end of 2015 and complete the trial in 2016.
The Phase 2 study is designed to evaluate the efficacy, safety and tolerability of VK2809 in approximately 100 patients with elevated LDL cholesterol (LDL-C) and fatty liver disease. Patients will be randomized to receive once-daily doses of VK2809 or placebo for 12 weeks.
The trial's primary endpoint will evaluate the effect of VK2809 treatment on LDL-C after 12 weeks, compared with placebo. Secondary and exploratory endpoints will assess changes in liver fat content, triglycerides, and inflammatory markers.
Prior human data suggest that treatment with VK2809 leads to significant reductions in LDL-C, triglycerides, and atherogenic proteins. In addition, animal models of hepatic steatosis have demonstrated compelling reductions of liver fat content following treatment.
"VK2809's novel liver-targeted mechanism of action provides a unique opportunity to potentially improve plasma lipid levels and reduce hepatic steatosis simultaneously, which may provide important therapeutic benefits for patients," Brian Lian, CEO, said in a statement.
Viking recently initiated a Phase 2 clinical trial of VK5211, its lead program for muscle and bone disorders. "We believe we are making excellent progress toward our goal of unlocking substantial value from our pipeline programs," he added.