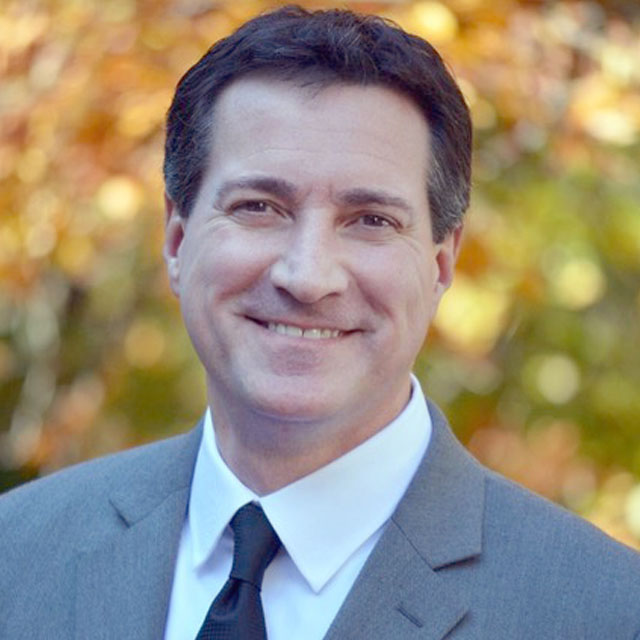 iBio (NYSE American:IBIO) is continuing its transition from a licensing business to a manufacturing services provider and developer of proprietary biologics. Central to the initiative is a new brand for its core technology in 2019, the FastPharming System, which uses plants for the rapid and safe production of high-quality protein products.
"iBio began the journey to become a contract development and manufacturing organization (CDMO) in 2016 with the acquisition of a 130,000 square foot manufacturing facility in Texas, which was suitable for the plant-based production of clinical-grade biological medicines," Tom Isett, strategic advisor and board member, says in an interview with BioTuesdays.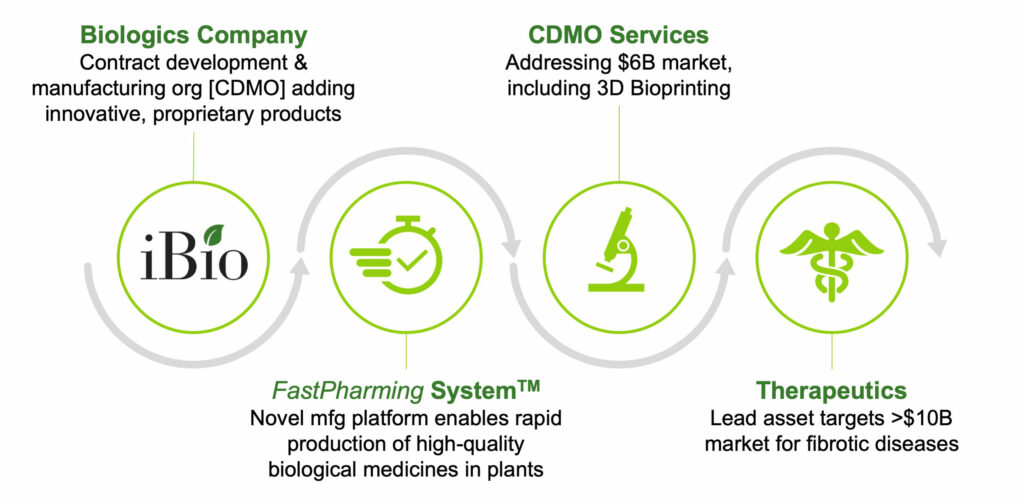 "Now the company is creating the commercial engine to take the FastPharming platform to market so that clients can quickly and easily produce high-quality therapeutics, vaccines and other products while speeding their 'time-to-clinic.'"
"We're also developing our own proprietary therapeutic pipeline using the system, as well as materials used for 3D bioprinting of tissue and organs," he adds.
Mr. Isett notes that mammalian cells have traditionally been used to express proteins, but they have notable limitations. For instance, the cells can be contaminated by mammalian viruses, so costly steps are required to mitigate the risks, and there are challenges in scale-up from lab to commercial production. The biggest problem is that it can take more than a year to develop a commercially viable cell line.
"On the other hand, iBio's FastPharming System uses plants to produce research quantities of material in weeks, and product for use in the clinic in just months," he contends.
Mr. Isett explains that the company achieves this by first growing the plants for a few weeks using advanced hydroponics in its state-of-the-art vertical farming facility. While the plants are growing, scientists insert the gene encoding the desired protein into a type of bacteria that infects plants.
"After a couple of weeks, we vacuum the bacteria into the plant leaves, thereby delivering the gene of interest into the plant's cells and thus turning each plant into a little protein factory. The plants are returned to their controlled lighting conditions for a few more weeks to maximize total protein production before harvesting," he adds.
And they grow like weeds, because they are. The plants are a relative of tobacco and are considered weeds in their native land of Australia. Traditional purification steps complete the process.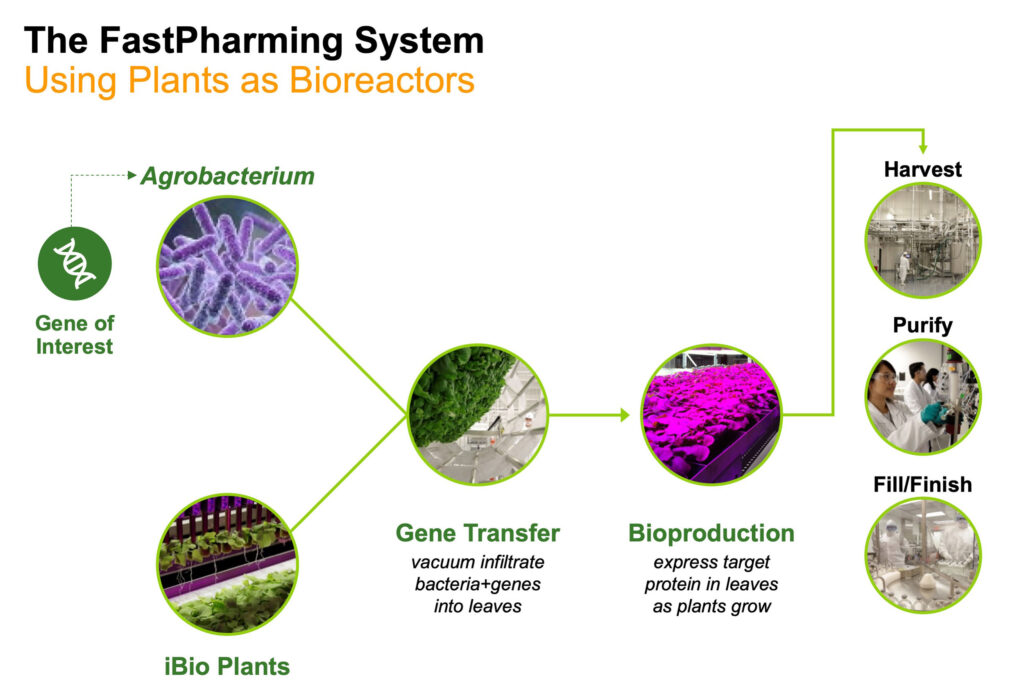 Mr. Isett contends that in addition to the FastPharming System being faster than mammalian cell culture, it's also safer and greener.
"There is a tremendous amount of plastic waste generated with 'single-use systems' used in mammalian cell cultures, and our process avoids that while our plants take CO2 out of the atmosphere as they grow. And mammalian viruses can't infect plants, so there's a higher level of safety inherent in our system," he points out.
In addition, there is no expensive, labor-intensive cell line development with FastPharming and, generally, there are lower upfront facility expenses, compared with mammalian cell culture systems. "We avoid scale up challenges by simply growing more plants if more product is required, rather than changing to larger and larger bioreactors required in traditional biologics manufacturing," he adds.
Mr. Isett says iBio's goal is to use all of these advantages and promote its differentiated manufacturing services to gain a greater share of the $6-billion biologics CDMO market.
The strategy seems to be working as iBio announced a number of new contracts and new service offerings beginning in mid-2019.
In June 2019, iBio began offering aseptic fill and finish services. The company filled clinical research quantities for a client's investigational therapies into sterile bottles for use in a late-stage clinical trial.
"While we expect our new fill-finish capabilities to be of interest to many clients, this first agreement helps validate our ability to work with a variety of gene-based products," Mr. Isett says.
In August, iBio inked an accord with a unit of United Therapeutics (NASDAQ:UTHR) to produce recombinant human collagen. The material will be used as a scaffold bioink for lab-based 3D bioprinting of lungs to address the critical shortage of transplantable organs and tissue. Under the multi-year agreement with United, iBio would scale-up production of recombinant human collagen using plant-based technology.
According to Mr. Isett, the initial work to be performed by iBio involves the development of a scalable purification process for recombinant human collagen tailored to the biofabrication of lung scaffolds that United licensed from CollPlant Biotechnologies (NASDAQ:CLGN), as well as cGMP supply of the material for clinical trials.
"Anticipating the need for commercial quantities of recombinant human collagen-based bioinks, we envision additional projects focused on process optimization and capacity expansion, the latter of which could employ our Factory Solutions capabilities," he adds.
Mr. Isett says Factory Solutions is another key manufacturing service capability iBio possesses. It involves helping a client "design and build" its own factory using the FastPharming technology. "This would appeal to companies that wish to begin by outsourcing their manufacturing needs to iBio, but later wish to establish their own, in-house manufacturing capability."
The launch of Factory Solutions also enables clients to tap into iBio's expertise for building facilities that use plant-based expression platforms other than FastPharming. Those may include tobacco, cannabis, lettuce or other systems.
Mr. Isett explains that iBio is helping design and build a new facility in China for CC-Pharming, that utilizes FastPharming, expanding on an earlier collaboration between the two companies.
Under the new accord, iBio granted CC-Pharming a commercial license to develop generic rituximab in China as well as a research license to evaluate multiple product opportunities using the FastPharming System. Rituximab was cleared by the FDA in 1997 for treating certain B-cell non-Hodgkin lymphomas.
Mr. Isett says the two companies plan to develop additional products for the Chinese market in other product categories, including research and clinical reagents, other biosimilars, and growth factors used in a variety of applications. iBio and CC-Pharming also are evaluating the feasibility of developing additional biopharmaceutical products for oncology, metabolic disorders, and fibrotic diseases.
To further differentiate its CDMO services, iBio in December introduced its FastGlycaneering Development Services to power recombinant protein production and increase the potency and quality of products.
"Combining the potency delivered by advanced glycan engineering technologies with the speed of FastPharming creates a more efficient and effective alternative than producing biopharmaceuticals in mammalian cell-based systems," Mr. Isett suggests.
Also in December, iBio teamed up with EdgePoint AI, a division of Mateon Therapeutics (OTCQB:MATN), to deploy EdgePoint's artificial intelligence technologies for pharmaceutical manufacturing.
Mr. Isett contends that when fully implemented, iBio expects to deliver the "highest level of compliance to the pharmaceutical industry's standards for data integrity." The enhanced automation capabilities also are expected to lower operating costs while improving quality of the company's manufacturing services.
In 2014, iBio in-licensed a molecule, now known as IBIO-100, from the University of Pittsburgh with potential efficacy in fibrotic diseases via its impact on the extracellular matrix. IBIO-100 has orphan drug designation for systemic scleroderma and can optimally be produced in the FastPharming System, Mr. Isett points out. In addition, the company has preclinical data suggesting that oral dosing of IBIO-100 would be as good as, or better, than IV dosing.
The company plans to conduct IND-enabling studies in 2020, using an oral dose in rats and dogs, and begin human testing in 2021. "We're continuing to explore partnerships in the development of anti-fibrotics," he adds.
Mr. Isett contends that iBio's IP is well protected, with 80 issued patents in various countries, of which 26 are in the U.S., and 39 active patent applications. "We continue to aggressively defend our IP litigation against Fraunhofer USA and the company's German parent," he says. The five-year-old litigation is scheduled for trial in 2020 and, if iBio prevails, the company could potentially see an award for damages in the double- or triple-digit million dollar range.
• • • • •
To connect with iBio, or any of the other companies featured on BioTuesdays, send us an email at editor@biotuesdays.com.